SNP 'could force Trident re-think'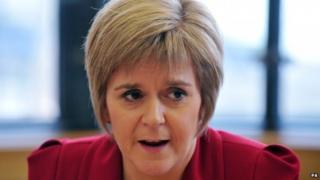 SNP leader Nicola Sturgeon has said her party could force a future UK Labour government to "rethink" plans for a new generation of nuclear weapons.
The Scottish first minister said a strong team of SNP MPs after the May election meant the administration could be held to account.
Ms Sturgeon said she would never do a political deal with any party which supported nuclear weapons.
Labour has favoured options to retain a "credible" nuclear deterrent.
Decisions on a replacement for the UK's Trident nuclear weapons, based on the Clyde, are expected to be made in the next parliament.
In the latest of a series of pre-election interviews with Scottish party leaders on the BBC, Ms Sturgeon said the SNP - which currently has six out of 49 Scottish MPs - could hold a balance of power in the event of a hung parliament.
---
Party pitches
Scotland's party leaders have been setting out their UK election prospects in a series of BBC interviews.
---
She said the SNP would never support a Conservative government, formally or informally, but said a vote for her party could ensure "Labour doesn't take Scotland for granted," adding: "We could force a re-think on austerity, we could force a re-think on Trident and we could make sure those new (Scottish Parliament) powers are delivered."
Asked whether its position on Trident meant any deals between the SNP and Labour would fall at the first hurdle, Ms Sturgeon said Scottish Labour leader Jim Murphy was "very enthusiastic about nuclear weapons as far as I can tell".
But she added: "There are many ordinary members of the Labour Party who would love Labour to have the excuse to change their position on nuclear weapons."
Ahead of the election, Labour and the Conservatives have said the May contest is about whether Ed Miliband or David Cameron will be prime minister and have questioned the relevance of voting SNP.
Ms Sturgeon said: "I want Scotland's voice to be heard.
"I want our interests to be protected and I want that vow of extensive new powers for our parliament to be delivered in full and that's why ill be seeking to ensure a big team of SNP MPs in Westminster to make Scotland's voice heard loudly and clearly."