Alex Salmond: UK vote 'not about referendum'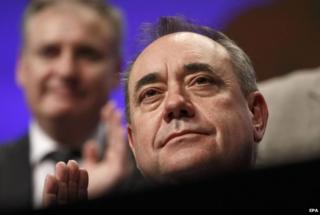 Alex Salmond has ruled out using the Westminster election to win a second independence referendum.
The former SNP leader said the vote in May was about forcing the UK parties to deliver "real home rule" for Scotland.
In a newspaper interview, Mr Salmond said their "vow" on new Holyrood powers was key in the vote against independence in September's referendum.
The Conservatives said he was the SNP's "reckless back seat driver", trying to win independence through the back door.
The former first minister, who is standing for election as an MP, said Scotland needed a strong SNP team in the UK parliament to stand up for the interests of the nation.
In interviews with DC Thomson titles The Courier and the Press and Journal, Mr Salmond said: "We are not campaigning for a second referendum - we've had a referendum."
The former Scottish first minister argued there was "massive evidence" that Scotland wanted home rule, which he described as being the full devolution of all domestic matters and taxation, with just foreign affairs and defence reserved to Westminster.
Major intervention
"This Westminster election is about delivering to Scotland what was promised in the referendum and the things that people are entitled to see," he added.
In the run-up to the independence referendum, Prime Minister David Cameron, Deputy Prime Minister Nick Clegg and Labour leader Ed Miliband all pledged significant additional powers for Scotland, in return for a "No" vote.
Former prime minister Gordon Brown also made a major intervention during the campaign, setting out a timetable for more devolution.
At the end of last year, the Smith Commission - set up by Mr Cameron to look into boosting Scottish devolution - said Holyrood should get a series of new financial and other powers.
Its findings will form the basis of legislation on more Scottish powers, but the SNP said they did not go far enough.
Scottish Conservative leader Ruth Davidson said: "Alex Salmond has become the SNP's reckless back seat driver.
"He lost the independence referendum last year, but now he is refusing to give up on his dream of dividing Britain in two."