Jim Murphy: Labour 'can be home for Yes voters'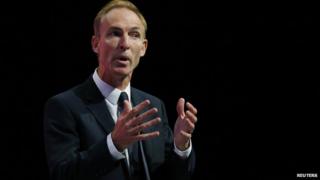 Voters who backed independence in September's referendum can "find a home in a renewed" Scottish Labour Party, Jim Murphy has said.
He spoke as the party's executive committee approved the wording of a new Clause Four in its constitution.
The new text states decisions on devolved policy will be made by the Scottish Labour Party.
However, the SNP's Angus Robertson said Labour was panicking and willing "to say anything to win Yes voters".
Party members will make the final decision on the new wording of the constitutional clause at a one-day conference on 7 March.
Speaking after the meeting of the executive committee, Mr Murphy said he wanted to reach out to Labour voters who backed a "Yes" vote in the referendum.
The party is said to be launching "an unprecedented drive" to contact almost 200,000 voters it said voted for the party at the 2010 General Election but voted "Yes" in September.
Personalised letters are to be sent to those that the party has identified as "the most important voters in the UK".
Mr Murphy said: "Today is a defining moment in Scottish Labour's fresh start.
"We are a renewed party for a post-referendum era in Scottish politics.
"I want Yes and No voters alike to be able to look at the purpose and principles of the Scottish Labour party and find a home there.
"We are a proudly Scottish party, committed to social justice. Our values, renewed today, are those of the Scottish people.
"After today, the whole of Scotland will be in no doubt that Scottish Labour will always put Scotland first and decisions about Scotland will be made here in Scotland."
The changing of Clause Four to emphasise the priorities in new Scottish Labour policy is part of a new doctrine the party has dubbed "Murphy's Law".
However, Mr Robertson said Mr Murphy was "all over the place talking about Yes voters".
He added: "Scottish Labour having joined with the Tories for over two years to ridicule and attack those voting for independence just a few months ago.
"In his BBC interview the Scottish Labour leader said that people who believed in the Yes campaign can make that argument within Scottish Labour, but then went on to confirm his party's continued hostility to independence."
NOTE: This article was updated on Monday, 26 January, 2015.