Extra funding for female offending projects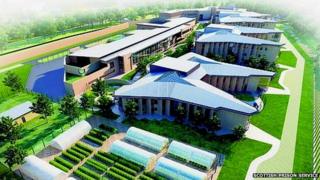 Projects to tackle female offending in Scotland are to get an extra £1.5m, the justice secretary has announced.
It comes just days after a £75m plan for a new women's jail in Inverclyde was scrapped.
Michael Matheson said it was part of a more "radical and ambitious" approach to female offending.
The decision not to replace Scotland's women-only prison, Corton Vale in Stirling, was welcomed by opposition parties.
The Scottish government announced it would consult on a plan to provide smaller regional and community-based custodial facilities across the country instead.
The new funding is in addition to £22.5m it already provides for projects to help female offenders with alcohol, drugs and mental health problems.
Mr Matheson said evidence showed it was a more effective way of dealing with female offending in Scotland.
He said: "Female offenders have very different needs to their male counterparts and require very specific support.
"If we are going to break the cycle of reoffending, we need to ensure that links to the family and community can be maintained, whilst targeted work is undertaken to address underlying issues fuelling crime."
U-turn
Opposition parties had lobbied for the planned HMP Inverclyde not to go ahead.
Scotland's deputy Labour leader, Kezia Dugdale, said the U-turn was a "sensible decision" and the Scottish Liberal Democrat's justice spokeswoman, Alison McInnes, said she was pleased the minister had "listened to the voices of reformers".
In the two months since he became justice secretary, Mr Matheson has been scrutinising the plans for the proposed prison in Greenock which was to be built on a former high school site.
It was the idea of his predecessor, Kenny MacAskill, and would have seen Cornton Vale close in 2018.
But the move was criticised by opposition parties and prison reform groups who said it ran counter to recommendations by the former Lord Advocate Dame Eilish Angiolini that female offending should be tackled with small regional units.