Are state school pupils losing out on appeals?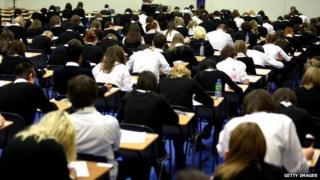 Labour is claiming that changes to Scotland's school exam appeal system favour privately-educated youngsters over state school pupils. Are those at state schools losing out to save cash?
The exams appeals process in Scotland has changed radically.
One big change is that if an appeal is unsuccessful, there is a charge.
But is this simply deterring speculative appeals? Or are candidates whose papers were wrongly marked actually losing out - not just on the right grade, but potentially on a place at university?
One part of the shake-up meant that candidates who were likely to perform poorly in the exam - perhaps because of serious illness or a bereavement - should still have got the grade they really deserved (without an appeal) as their school would have submitted supporting evidence beforehand.
Foot the bill
This means that when actual appeals are made now, it is likely to be because a candidate received an unexpectedly poor mark for no obvious reason.
Until last year, all appeals were made after the results were published.
When appeals are made after the results, schools now face a charge if they are unsuccessful. In some parts of the country schools themselves have to foot the bill but in others councils will meet the cost out of their overall education budgets.
Part of the thinking behind the changes was to try to cut down on purely speculative appeals - those appeals made simply because a candidate did not do as well as they had hoped.
As expected, the changes meant the number of appeals fell - from 65,000 in 2013 to 8,400 last year.
The number of appeals from both independent and state schools dropped dramatically.
Marks checked
However, Labour notes that the number of appeals at state schools fell at a far faster rate.
This could be because at independent schools, parents might ultimately pay for an unsuccessful appeal - an option not open to parents at state schools. It costs about £10 to have the marks checked and £30 for a paper to be completely re-marked.
In total, there were 473,000 exam entries and 7,000 appeals at state schools, while there were 38,000 entries and 1,300 appeals from independent schools.
However, we do not know how many, if any, of the entries from independent schools were made simply because parents would have been prepared to accept the cost.
This means that 1.5% of entries from state schools were appealed, while the figure from independent schools was significantly greater - 3.6%. In previous years, state school entries were more likely to be appealed.
The Scottish Council of Independent Schools denies claims that parents are being given the option to pay for appeals the school itself is not prepared to back - it says decisions on appeals should be taken by professionals in consultation with parents and students.
However, at some schools the cost of an unsuccessful appeal would still eventually be met by parents.
Success rate
But what really matters is the success rate for appeals. Is there hard evidence that appeals which could have been successful from state school youngsters aren't going ahead because of money? Or might independent schools simply be more likely to risk paying?
Of the total of 8,400 appeals from all schools just over 2,000 were successful.
However, the success rate of appeals from independent schools is slightly, but significantly, lower - 24% compared to almost 26% from state schools.
The government strongly denies state school pupils are losing out but Labour points to an example of a youngster at a state school whose Higher results were very disappointing. The school only appealed after a parent fought their corner. The appeal was successful.
But when an apparent error of judgement at a state school comes to light, is this simply a mistaken judgement by a school or the result of financial pressure? And are there more cases like this which have gone unrecorded?
The data so far is inconclusive but does beg questions.