End of poll tax debts approved in principle by Holyrood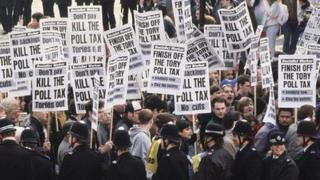 Plans to end the collection of poll tax debts in Scotland have been approved in principle by the Scottish Parliament.
The community charge debt bill was passed by 96 votes to 14, although it still faces two further stages of scrutiny before becoming law.
The controversial tax was brought in by the Thatcher government to Scotland in 1989, before the rest of the country, but was abolished after four years.
Some councils are opposed to the legislation.
Council body Cosla has voiced concerns that plans to end the collection of historic poll tax debt could encourage non-payment of outstanding council tax.
The Scottish government has argued that after two decades it is time to stop chasing poll tax arrears.
It introduced the Community Charge Debt (Scotland) Bill to Holyrood to stop councils from pursuing the debt after several said they would use the details of people who registered for the independence referendum vote to recover outstanding cash.