Tougher A&E waiting target in Scotland delayed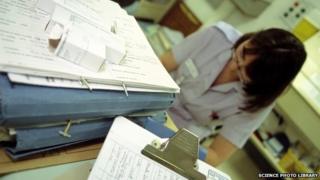 Plans to reintroduce a tougher waiting time target for A&E departments have been delayed.
Currently, emergency departments in Scotland have to treat 95% of patients within four hours - a target which has not been met across the country.
This was a temporary target that was supposed to rise to 98% last September, if boards had reached the lower figure.
A Scottish government spokesman said performance in Scotland remained ahead of the UK as a whole.
When the temporary target was meant to end, the tougher target to treat 98% of patients within four hours was to be reintroduced.
However, due to the poor performance of Scottish Accident and Emergency departments, the lower target will remain.
Second change
The performance of emergency departments has not improved since the "interim target" was introduced in April 2013.
The easier target has never been met and the tougher target was last achieved in 2009.
However, in future, emergency departments can claim to have hit the easier target even if one in 20 (an estimated 82,500 people) wait longer than four hours.
Confusion arose over the issue this week when statisticians from the Information Services Division (ISD) of the NHS sought urgent clarification from the Scottish government.
ISD monitors the performance of the NHS and produces statistical summaries. It has continued to document the performance of the NHS against both the 95% and 98% targets.
The latest waiting times, covering the last three months of 2014, are due out on Tuesday. They are not expected to show much improvement.
This is the second time the Scottish government has made changes to the way it measures waiting times.
It was criticised in 2013 for the way the 95% target was introduced, which was done without any public announcement.
Government targets
At the time, the government insisted the 98% target had become a "standard" and the 95% figure was a "stepped target" to help boards meet the standard.
However, the lower 95% target brought Scotland into line with the rest of the UK, which measures performance to the same level.
Last month, the Scottish government announced £100m would be invested over three years to help reduce "bed blocking" - people unnecessarily stuck in a hospital bed because care arrangements were not in place elsewhere.
A Scottish government spokesman said: "Any claims that the 98 per cent target has been dropped or suspended are simply not true and this target, which is one of the toughest in the world, remains in place.
"Our position remains as we set out in April 2013 - boards should achieve 95% as a step towards the achieving 98% standard. We still expect boards to aim for the tougher target, and indeed some are achieving it.
"Although we are not satisfied with current performance, we are still performing above all UK and international comparators."