Referendum campaign spending revealed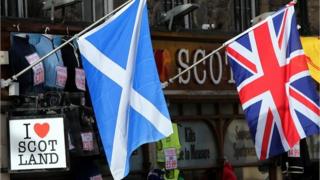 The Electoral Commission has published further details of spending by campaigners officially registered during the independence referendum.
The latest figures outline spending by 21 individuals or organisations between £10,000 and £250,000.
Of those, "Yes" supporters spent £399,000, compared with £1m for those supporting a "No" vote.
Details of spending above £250,000 during the campaign will be published in May.
The new report said five groups or individuals who registered failed to complete spending returns.
These included the Wings Over Scotland website and Labour for Independence.
A spokesman for Wings over Scotland said it spent about £76,000 and did complete the forms but had "trouble with the Commission" over some paperwork.
But a spokesman from the Electoral Commission said: "Wings Over Scotland did not submit a return which met the requirements set out in the legislation ie by providing receipts/invoices for all items of expenditure over £200"
Spending limits
There was no limit on what people could donate but there were restrictions on how much individuals and groups could spend during the formal campaign period, which ran between 30 May and 18 September.
The two official campaign groups, Better Together and Yes Scotland, could spend up to £1.5m each during that period.
Anyone else could splash out up to £10,000 on campaigning. If they wanted to spend any more, they needed to register with the Electoral Commission.
"Yes" campaigners included:
Business for Scotland Ltd - £143,027
Christians for Independence - £29,248
National Collective (Artists and Creatives for Independence) - £54,849
"No" campaigners included:
Liberal Democrats - £187,585
Communication Workers Union - £20,437
Grand Orange Lodge for Scotland - £47,072
The latest report showed that 11 registered campaigners confirmed they spent less than £10,000 during the regulated period.
Better Together, Yes Scotland, the Conservative Party, Labour and the SNP, all of which spent more than £250,000, have until 18 March to submit an independently-audited return to the commission.
All registered campaigners had to report their campaign spending to the Electoral Commission as well as donations and loans over £7,500.
Last year it emerged that Harry Potter author JK Rowling had donated £1m to the Better Together campaign.
On the other side of the debate, lottery winners Chris and Colin Weir donated £3.5m to Yes Scotland.