Scottish Labour makes women board members pledge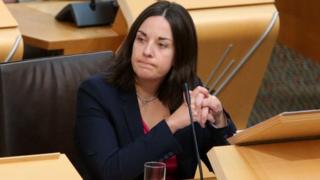 Scottish Labour has said it will ensure at least half of the board members of public bodies in Scotland are women if it wins the next election.
The party said it would use the new powers to guarantee gender equality.
First Minister Nicola Sturgeon has already made strong pledges on the issue, ensuring her first cabinet team had a 50/50 gender balance.
She also outlined proposals to challenge all workplaces to have a 50:50 gender split on boards, by 2020.
Scottish Labour said they would enshrine this commitment in law immediately for public bodies. if they won the 2016 Holyrood elections.
Last year, a Scottish government report said just 35% of public board members in Scotland were women.
The new powers being devolved to Scotland through the Smith Agreement give the Scottish Parliament the ability to legislate for gender equality on the boards of Scotland's public bodies.
Scottish Labour's deputy leader Kezia Dugdale will tell the Scottish Women's Convention in Glasgow: "The institutions that have so much influence over Scottish public life should reflect the country at large.
"With so few women on the boards of Scotland's public bodies today they don't represent the communities they seek to serve. That needs to change and Scottish Labour will make that happen."
Scottish Labour's shadow cabinet has equal representation between men and women, and the party said that the cabinet of the next Scottish Labour government would have equal gender representation.
Ms Sturgeon's cabinet is the first time the Scottish government's senior ministerial team has had as many women as men.
When she took office in November, the SNP leader said that smashing to "smithereens" the glass ceiling faced by women was an important part of tackling inequality.
Ms Sturgeon, the first woman to hold the top job in Scottish politics, said she wanted to "ensure there are no limits on women's ambitions".
Since becoming first minister, Ms Sturgeon has also pledged to increase free childcare if she is in power after the 2016 Holyrood elections.