Glasgow council leader urges 'revisit' of funding formula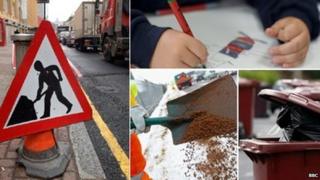 The leader of Glasgow City Council has called on the Scottish government to increase its block grant to local authorities.
Gordon Matheson said Scotland's councils have borne the brunt of budget cuts.
Local authorities across the country have been meeting to set their budgets, with Glasgow due to do so on Thursday.
The Scottish government said that despite Westminster cuts councils had been treated very fairly.
Holyrood Finance Secretary John Swinney has allocated more than £10.85bn for councils in his budget for 2015-16.
As a general rule, councils get about 80p of every pound they spend from the Scottish government.
Most of the remainder comes from the council tax, which has been frozen across Scotland since 2007.
Speaking on BBC Radio Scotland's Good Morning Scotland programme, Mr Matheson said he was not in favour of a council tax increase and he called for a "radical revisit of the funding of local government".
The leader of Scotland's biggest council pointed to research by the Joseph Rowntree Foundation which he said suggested local authorities were "among the foremost casualties of budget cuts".
He said that while the overall Scottish government budget had faced a "10% pressure over the last five years", local government funding had been "hit by a 24% cut in real terms".
He added: "Since 2007, Glasgow's share of the available local government budget has been cut year on year.
"If we had the same percentage share this year as we did when the SNP came to power Glasgow would have an extra £109m in our budget this year."
A Scottish government spokeswoman said: "Glasgow gets an excellent deal from the Scottish government, with the third highest revenue allocation per head of all mainland councils.
"Overall - despite Westminster cuts - local government has been treated very fairly under this administration, with the local government finance settlement increasing to almost £10.8bn this financial year. This will rise again to £10.85bn next year.
"The Local Government Finance Settlement is allocated using a needs-based distribution formula agreed with all local authorities."