Scottish Conservatives says football clubs want end to booze ban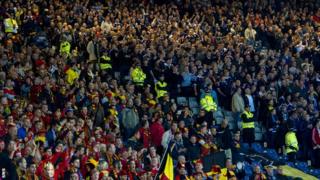 The Scottish Conservatives have said an overwhelming majority of football clubs in Scotland want an end to the alcohol ban at matches.
The Tories carried out a survey of all clubs in the Scottish Professional Football League (SPFL).
The results suggested 85% of the 26 clubs that responded wanted to re-examine the issue or see a pilot scheme launched.
The Scottish government has said it has "no plans" to change the policy.
The ban was initially imposed following a riot at the 1980 Scottish Cup final between Rangers and Celtic.
Financial boost
Alcohol can be served in corporate hospitality areas of football stadiums but not in other areas.
Scottish Labour is campaigning for the alcohol ban to be dropped.
Scottish Conservative leader Ruth Davidson first called for the ban to be scrapped in September 2013.
The Tories said their survey, which was conducted last year, showed that just three clubs had said they were against any move to bring alcohol back to Scottish stadiums.
Eight top flight clubs responded positively, with only one ruling out the idea altogether.
Most clubs said the change would bring a financial boost.
Family-friendly atmosphere
Ms Davidson said: "Our survey shows the vast majority of clubs are open-minded when it comes to bringing alcohol back to football matches.
"It's more compelling evidence that a pilot scheme to see how it works out would be the best way forward.
"There's certainly no shortage of clubs ready to try it out - but for some reason the Scottish government seems unwilling to listen to them."
She added: "Football has changed significantly over the decades, it's now a more family-friendly atmosphere, and the stadia are much safer."
Ms Davidson said Scots were allowed to drink in football grounds if they were attending music gigs or other events but not football matches.
She said it was time to bring football into line with other sports such as rugby.
Labour leader Jim Murphy has said football fans should not be treated differently from rugby supporters at Murrayfield, where drinking is permitted.
Scottish Labour has arranged a meeting at Hampden on Friday and has invited representatives from the Scottish Football Association, football clubs and Police Scotland to attend.
The Scottish government's Social Justice Secretary Alex Neil told BBC Scotland last week that reintroducing the sale of alcohol would threaten the game's status as a "family event" and could lead to a rise in football-related domestic violence.