Glasgow City Council to raise cost of school meals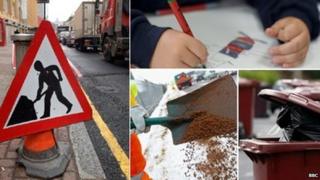 Scotland's largest council is to increase the cost of school meals and tighten school transport provision.
The measures were outlined as Glasgow City Council approved its budget for 2015/16, which included other moves to meet a savings target of £28.9m.
The authority said it would maintain teacher numbers, increase its living wage to £7.85 and keep its wage-subsidy apprenticeship programme.
The Scottish government said it gave Glasgow an "excellent deal" on funding.
The city council has again blamed the Scottish government for budget pressures.
The school meal cost increase will see prices rise from from £1.50 to £1.70 in August and then to £1.90 from August 2016.
Free buses
Pupils entitled to free school meals will not be affected.
The authority also plans to tighten the provision for free school transport.
At present primary pupils who live 1.2 miles or more from their school are entitled to free public transport. The distance for secondary pupils is 2.2 miles or more.
From August this year the new distance for primary pupils will be two miles and and three miles for secondary pupils.
A spokesman for the council said these were more in line with its statutory obligations.
Glasgow City Council leader Gordon Matheson accused the Scottish government of short-changing the city and creating unnecessary budget pressures.
"Glasgow is Scotland's big success story. Our City Deal is an exciting development but we could do so much more to grow our economy and tackle poverty," he said.
"Unfortunately, the government in Edinburgh continues to redistribute cash to other areas of Scotland which, frankly, contribute much less than Glasgow to the Scottish economy and have lower concentrations of poverty.
"It's been estimated that the Scottish government has faced a 10% real terms reduction in its budget over the last five years. However, over the same period Scottish councils have faced a 24% cut."
Mr Matheson added: "It's only as a result of clear political leadership and sound financial planning that we've survived the last few years with no really substantial damage to services."
Glasgow said it would continue investing in jobs, education and infrastructure and would increase its Living Wage to £7.85 per hour.
The authority has also said it will maintain teacher numbers, continue funding its "£50m Glasgow Guarantee" - a wage-subsidy apprenticeship programme.
Major events
Funding will also be secured form major events such as the World Pipe Band Championships, World Gymnastics Championships, the Davis Cup and Turner Prize
The £100 Winter Fuel Dividend for Glasgow pensioners aged 80 and over will also be maintained and the council has also said £12m will go towards roads infrastructure and fixing potholes.
A Scottish government spokesman said: "Glasgow gets an excellent deal from the Scottish government, with third highest revenue allocation per head of all mainland councils. The Local Government Finance Settlement is allocated using a needs-based distribution formula agreed with all local authorities.
"Local government has been treated very fairly despite the UK government's cuts to the Scottish budget. In 2014-15 the Scottish government will be providing local authorities with total funding of almost £10.8 billion. This will rise to over £10.85 billion in 2015-16 with extra money for new responsibilities including the extended pre-school entitlement and free school meals.
"The Scottish Government has fully funded the council tax freeze by providing local authorities with an additional £70 million per year which is the equivalent of an increase of around three per cent in council tax income each year."