Scottish Greens to field record candidates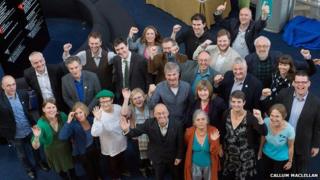 The Scottish Greens are to field more candidates than ever before in May's general election.
The party will have candidates in 32 of the 59 Scottish constituencies, with 40% of those standing being women.
Membership of the Greens increased after last year's independence referendum to more than 8,500.
The party said Edinburgh East, where former Edinburgh University rector Peter McColl is standing, would be its top priority.
Scottish Greens co-convener Patrick Harvie said: "Other parties are tying themselves in knots with messages about the sort of tactical voting that represents the politics of old.
"With our biggest slate of candidates, Scots will have an unrivalled opportunity to vote for the bold and positive politics that only Greens represent.
"Our candidates are already out and about engaging with voters on our ideas for protecting public services, reforming democracy and tackling inequality.
"With new members joining all the time we are determined to maintain the momentum."
Mr McColl, the Edinburgh East candidate, said: "Greens are clearly in the running as we head into an election in which everything is up for grabs. We know from speaking to our local communities that voters are looking for candidates they can believe in.
"Our policies on raising the minimum wage to £10 a hour by 2020, renationalising the railways and ending austerity have huge appeal, and are vital to rebalancing our economy and our society."