Former PM Gordon Brown says UK government could part own oil fields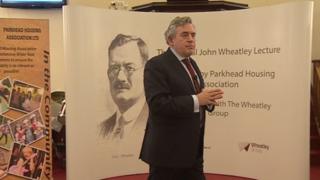 Former prime minister Gordon Brown said he believed under threat North Sea oil fields could be part owned by the UK government.
During a lecture in Glasgow, the Labour politician backed the idea of public-private ownership deals.
He said they could be the solution for those fields that were faced with being mothballed.
However, the SNP's Stewart Hosie accused Mr Brown of failing to act during his time as Chancellor.
Mr Hosie, the party's deputy leader, called for Mr Brown to back the Scottish government's action plan for the industry, which included cuts in North Sea oil production taxes and new incentives for exploration.
The debate about the future of North Sea oil comes against the backdrop of global oil prices falling sharply.
From 2010 until mid-2014, world oil prices had been fairly stable, at about $110 a barrel.
But from June, prices more than halved with Brent crude oil dipping below $50 a barrel for the first time since May 2009 and US crude down below $48 a barrel.
Mr Brown said: "The current problem is not only cyclical - it is not just the fall in oil prices and the loss of jobs as fields become non-commercial.
"The problems we have today are instead, as the Wood Report and subsequent speeches by Sir Ian Wood and oil reports have told us, structural and enduring."
He suggested a number of measures that he claimed could help the industry, including;
A North Sea reserve to maintain and upgrade essential infrastructure and to provide "last-resort" debt finance for companies who want to keep fields open.
UK government co-investment through public-private partnerships.
Government loans.
And advance purchase agreements.
Mr Brown said: "In the most extreme cases, to avoid the field being mothballed in its entirety, the government could go into partnership for a take-over of the field.
"If it is temporarily abandoned, the government should act to ensure that sometime in the future it is possible to come back and exploit the oil.
"Ultimately the proposal is to make the most of our oil reserves, rather than to ignore them or to downplay their contribution in the future, particularly given the volatility of the world oil market and the strong prospect that prices could rise again."
The Kirkcaldy and Cowdenbeath MP, who is stepping down from Westminster at May's election, also wants to see young people encouraged to work in hi-tech medical, environmental and engineering jobs as traditional manufacturing work continues to decline.
Mr Brown said: "In 10 years' time, manufacturing - once 40% of the Scottish economy - will harbour just 7% of Scottish jobs.
"We must aim to create high-quality, well-paying, hi-tech, secure jobs based around medical, information and environmental technologies and I will set out a plan to do so.
"This is the era of fast-moving change which creates massive insecurity and a demand from people that we shelter, insulate and protect them from alienating and all-pervasive change."
Last Updated at 23 Feb 2018, 21:30 GMT
price
change
%
67.29

+

+0.90

+

+1.36
However, the SNP's Mr Hosie criticised Mr Brown, saying that he had treated Scotland as an "oil cash cow" when he was Chancellor.
Mr Hosie also said that Mr Brown had imposed the supplementary tax on the North Sea industry and then "doubled it".
The MP added: "The Scottish government has already published a comprehensive action plan to help the North Sea industry and protect tens of thousands of jobs, and it would be good if Mr Brown could help make up for the damage he did when in office by backing it.
"This includes an investment allowance to provide support for fields that incur higher costs to develop, a reversal of the increase in the supplementary charge implemented by the UK government in 2011, and the introduction of an exploration tax credit to help increase levels of exploration and sustain future production.
"Whatever good ideas Mr Brown has now, by definition he didn't implement them in the 13 years when he was chancellor and prime minister."
'What Labour can do'
Mr Brown also told the gathering at Parkhead Congregational Church in Glasgow's east end that people wanted social change and economic change in the way they lived their lives.
He added: "The question we will ask and answer is not what Scotland can do for Labour, but what Labour can do for Scotland."
The politician said he wanted a programme for change that would unite "a Scotland divided by the referendum" and "repair the divisions that have since September embittered Scotland".
Mr Brown went on: "We need to pioneer a new constitutional model that is not the old independence, which forgets we are part of an interdependent world, and is not the old devolution, which does not achieve the right balance between Scottish autonomy and UK-wide sharing for today.
"It is instead something quite different - a modern equivalent of Scottish home rule within the UK."
---
Analysis
By Douglas Fraser, BBC Scotland Business and Economy Editor
After the former prime minister's political trajectory, who'd have thought that some of his final words as a Right Honourable Member would be a call for the nationalisation of Britain's oil fields?
Ok, so it's not quite as that might seem. His speech picked up on the current concerns that a low oil price will lead to producers shutting down the UK's least profitable (or most loss-making) oil fields prematurely.
The speech returned to a time-honoured policy flourish from the Kirkcaldy and Cowdenbeath MP - setting a target for creating 100,000 jobs:
"We must aim to create high-quality, well-paying, high-tech, secure jobs based around medical, information and environmental technologies and I will set out a plan to do so," he said.
So that's the retirement job sorted, then.
---