SNP MSP Dave Thompson calls for milk break in schools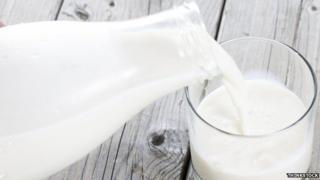 A Highland MSP has called for free milk breaks to be reintroduced to all Scottish primary schools.
The SNP's Dave Thompson said he believed the move would improve child nutrition.
He said the scheme would also help Scotland's struggling dairy industry.
The Scottish government said that, while it is committed to supporting the health and development of young people, it is individual councils which determine the structure of school days.
Mr Thompson's proposal would see children have a 15 to 20 minute break during which they eat dairy products.
In a change from the past, he has suggested that the dairy products be more varied, such as flavoured milk, yoghurt with fruit, or even cheese rather than just milk.
He has lobbied Food Secretary Richard Lochhead, whom he said seemed "receptive" to the proposal to re-launch free dairy breaks.
'Steady income'
He has also contacted the Public Health Minister, Maureen Watt, to ask for her support.
And he has written to major supermarkets asking them to contribute financially to the scheme.
Mr Thompson, the MSP for Skye, Lochaber and Badenoch, told BBC Scotland: "Dairy is good for building bones.
"The National Osteoporosis Society recommends that people take dairy products, and I think it would be particularly good for young folk.
"Given that our dairy industry at the moment in Scotland is suffering very severely indeed, it would be a good steady income for them throughout the year."
The Scottish government said that the matter is an issue for individual councils, who "determine the structure of school days, including breaks, taking account of local circumstances," but that they were committed to encouraging healthy eating in young people.
In a statement, the government added it was "working hard" to support the dairy sector and would be publishing a dairy action plan in the coming weeks.
Historically sensitive
A spokesman for council body Cosla said: "The situation advocated by Mr Thompson already happens in schools.
"Local authorities already have the power to provide nutritious snacks and drinks, including milk, free of charge in school if they feel that this will help children."
The issue of free milk is historically very sensitive.
Until 1968, all children under the age of 18 were entitled to free milk. It was a Labour government, under Harold Wilson, that scrapped free milk for secondary school pupils.
Margaret Thatcher famously abolished free milk for seven to 11-year-olds in England and Wales during her time as Secretary of State for Education, earning the nickname "Thatcher the Milk Snatcher" for her efforts.
She later wrote that the move had "incurred the maximum of political odium for the minimum of political benefit."