STV reveals general election debate details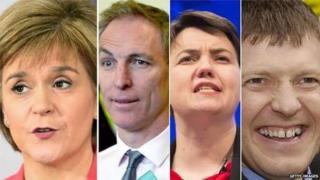 Broadcaster STV has announced details of a debate between the leaders of Scotland's four main political parties ahead of May's general election.
Scotland Debates will feature First Minister Nicola Sturgeon, Scottish Labour leader Jim Murphy, Scottish Tory leader Ruth Davidson and Scottish Lib Dem leader Willie Rennie.
The debate will be chaired by STV's political editor Bernard Ponsonby.
The Scottish Greens have criticised the broadcaster for excluding them.
Scotland Debates will be broadcast live from The Assembly Rooms in Edinburgh on 7 April, between 20:00 and 22:00.
The programme is the first televised election debate to have been confirmed.
'Consulting lawyers'
The Greens have said STV's format is "out of step with a public appetite to hear the full range of voices", and highlighted how the Greens had been included into plans by UK broadcasters.
Patrick Harvie MSP, co-convener of the Scottish Greens, said: "During the referendum campaign the Scottish Greens played a prominent role, appearing regularly in televised debates and discussions, perhaps most notably at the STV debate at the Assembly Rooms.
"In the context of a post-referendum election, with a politically-engaged electorate and a decline in support for two or three parties, it is clear that a broadcaster not reflecting a broader range of voices will not meet the expectations of its audience.
"I know our many members will be disappointed, and our wider support will be calling for STV to rethink their unfair approach. We have the option of consulting lawyers about a challenge."
On Wednesday, Prime Minister David Cameron and Labour leader Ed Miliband were involved in angry exchanges during Prime Minister's Questions over the UK-wide TV debates.
---
Planned debate schedule
2 April: Seven-way debate featuring David Cameron, Ed Miliband, Nick Clegg, Nigel Farage, Nicola Sturgeon, Natalie Bennett and Leanne Wood (ITV broadcast)
16 April: Seven-way debate featuring David Cameron, Ed Miliband, Nick Clegg, Nigel Farage, Nicola Sturgeon, Natalie Bennett and Leanne Wood (BBC broadcast)
30 April: Head-to-head debate featuring David Cameron and Ed Miliband (Channel 4 and Sky News broadcast)
---
The BBC, Sky, ITV and Channel 4 plan to hold three live televised debates in April - two featuring the leaders of Conservatives, Labour, the Liberal Democrats, the SNP, Plaid Cymru, UKIP and the Green Party, then one with only Mr Cameron and Mr Miliband.
But they face a threat from the Democratic Unionist Party (DUP), which is angry at being excluded and is calling for an independent body to be put in charge of television election debates.
Last week, Mr Cameron said his "final offer" was to take part in a single debate of seven party leaders before 30 March - an offer which was rebuffed by the broadcasters who said they would go ahead with their three planned debates with or without him.
Gordon Macmillan, STV's Head of News, said: "STV has an established track record of delivering election debates for viewers in Scotland and this debate will give members of the audience the opportunity to put their questions to the leaders of the four main political parties in Scotland.
"Live TV debates played a key part in STV's coverage of last year's referendum on independence and we anticipate a lively and engaging debate for viewers on 7 April."
The broadcaster has also said Scotland Debates will air on ITV Border Scotland and will be streamed live on the STV Player.
Meanwhile, BBC Scotland has said it is planning a range of election programming, including debates, and it will release details when they are finalised.