UKIP MEP David Coburn apologises for Abu Hamza comment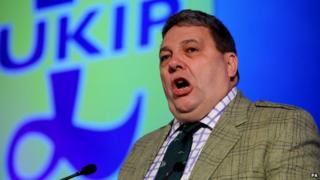 Scotland MEP David Coburn says he has apologised for comparing a Scottish government minister to a convicted terrorist.
In a newspaper interview the UKIP member said: "Humza Yousaf, or as I call him, Abu Hamza".
In a comment to BBC Scotland he said: "I've apologised profusely for it. It was a stupid thing to say. It was an inappropriate joke."
Mr Yousaf has called for European officials to discipline the MEP.
Scotland's minister for external affairs and international development told BBC Scotland the comment was "Islamophobic" and "among the worst racial slurs" he had ever received.
UKIP leader Nigel Farage said Mr Coburn's remarks were a "joke in poor taste" but he would not be taking any action against him.
However, the UKIP MP Douglas Carswell condemned the remarks while speaking on the BBC's HARDtalk programme.
He said: "I don't defend the comments made by the Scottish UKIP MEP at all. They were disgraceful comments to make and I have no truck with those comments."
---
Analysis
Glenn Campbell, BBC Scotland political correspondent
UKIP said David Coburn had apologised to Humza Yousaf.
They said he would be making no further comment on what a spokesman described as a "non-story".
But that's unlikely to be the last word on the matter.
Mr Yousaf said he was taking "legal advice" to see if he could pursue a complaint under legislation against race or religious hatred.
It has also emerged that the Scottish government is inviting MSPs to vote to express their disapproval.
Cabinet minister Alex Neil has tabled an amendment to a motion celebrating Scotland's diverse communities.
It says parliament "unites in condemning the recent comments by David Coburn MEP".
MSPs will decide on Wednesday whether or not to endorse that rebuke to Scotland's most outspoken Euro MP.
---
The president of the European Parliament, Martin Schulz, condemned the remarks, saying they were "not worthy of any elected member".
But the spokesman said the president could not act on remarks made outside parliament.
Radical cleric Abu Hamza was sentenced to life in prison for a string of terrorism offences by a judge in New York in January, after being extradited from the UK.
Hamza, who previously lived in London, was jailed in the UK for seven years in 2006 for soliciting murder and inciting racial hatred.
Mr Coburn's comments were reportedly made over the telephone to Daily Mail reporter Alan Roden during a conversation about the BBC Scotland's Big Immigration Debate, which took place earlier this week.
The MEP is reported to have said: "Humza Yousaf, or as I call him, Abu Hamza, didn't seem to turn up."
Earlier this week a UKIP spokesman denied the comparison had been made and said it was a "slip of the tongue" on Mr Coburn's part.
But Mr Roden said it was neither a misunderstanding or "a joke".
Speaking on BBC Scotland's Scotland 2015 programme on Monday, he said: "David, unsolicited, named Humza Yousaf and used this phrase. It was not banter in a pub, even though it was a chat between a journalist and a politician. It's very serious indeed."
Speaking on the BBC's Daily Politics programme Mr Farage said: "I haven't spoken to David Coburn about it. I can only guess he's either saying he's a terrorist or he's telling a joke in poor taste. I suspect it's a joke in poor taste.
When asked if he would be taking action against Mr Coburn he said: "People do make mistakes. I don't think David Coburn should have done that. But am I going to get terribly exercised about it? No."
Mr Yousaf has written to Mr Farage demanding that Mr Coburn, who is Scotland's only UKIP MEP, is expelled from the party.
The SNP MSP said he was taking legal advice on the matter.