Libor fines pay for charity air ambulance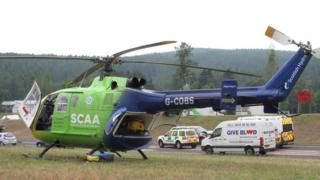 Scotland's charity air ambulance is to be replaced with a more modern helicopter with money from fines imposed on banks.
Chancellor George Osborne announced the charity would receive £3.3m from Libor fines imposed on banks that tried to manipulate the financial markets.
The current "workhorse" helicopter based at Perth is Scotland's only charity-funded air ambulance.
The charity said it would replace it with a larger, more capable aircraft.
It said the upgrade would allow it to fly at night and in cloud, increase its range and accommodate a broader range of patient categories.
The SCAA will now consult on the best helicopter for the job.
The charity works in partnership with other services to deliver paramedics to emergency scenes and airlift casualties to hospital.
SCAA chairman John Bullough described the budget announcement as "fabulous news".
He said: "Since we launched in May 2013, SCAA has responded to over 500 time-critical emergencies all across the country.
"We have saved many lives and improved many hundreds more.
"We have achieved all this with our distinctive Bolkow 105 aircraft - an elderly, yet dependable airframe widely used as an entry-level air ambulance helicopter.
"This has proved an invaluable workhorse during our first two years. However, it has some limitations."
SCAA receives no government funding.
It said it would continue to fundraise to meet the overall increased running costs of operating the new aircraft.
Chief Secretary to the Treasury Danny Alexander said: "Having grown up on a Hebridean island, I know first-hand how important it is for people living in remote communities to know that they can get help quickly if needed.
"This money comes from Libor fines on banks - we've taken about £450m from those who broke the rules and demonstrated terrible values, and used the funds to support good causes across the UK, from disabled veterans to air ambulances."