Budget 2015: SNP and Scottish Labour hit out at 'continued austerity'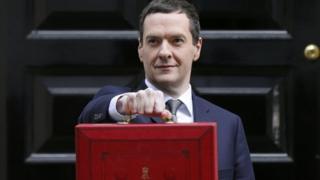 Scotland's Deputy First Minister John Swinney has condemned the chancellor's "continued pursuit of austerity".
In his Budget speech, Chancellor George Osborne said Britain's battered public finances were on the mend and promised the end of austerity was in sight.
However, Mr Swinney said the UK was "facing the same cuts today as we did yesterday".
Scottish Labour leader Jim Murphy said Mr Osborne was in "complete denial" about the damage austerity had caused.
The chancellor told MPs at Westminster that he would meet his promise, made in 2010, that debt would be falling as a share of national income by the end of the parliament.
He said: "The hard work and sacrifice of the British people has paid off."
Mr Osborne added that the squeeze on public spending would end in 2019-20.
Mr Swinney, who is Scotland's finance secretary and deputy first minister, said: "The chancellor had every opportunity to end the damaging cuts from the UK government and has instead turned his back on investment in public services.
"We face the same £30bn of unfair and unnecessary cuts today as we did yesterday. That is despite the clear admission from the chancellor that there is headroom to invest to protect our public services.
"If we are to believe the chancellor that the economy is making such a successful recovery, then there is no justification for the destructive cuts that impact on the most vulnerable in society.
"That tells you everything you need to know about the values and priorities of this chancellor."
'Fairer deal'
Mr Murphy said that after five years of Tory austerity, the "choice facing voters couldn't be clearer".
He explained: "More cuts and deeper austerity with the Tories or a fairer deal with Labour to make work pay for working people. It is a stark choice of two different futures."
Scottish Secretary Alistair Carmichael, a Lib Dem MP, said: "Today's budget is another positive step forward for Scotland in the wider journey to economic stability which has taken place over the past five years.
"It gets the important things right, with a focus on helping create a fairer and more generous personal tax system which will benefit thousands of people in Scotland, and giving a helping hand to some of our key business sectors, securing jobs and prosperity for the future.
"This progress has been hard-won by this government and builds a strong base for Scotland's economic future as part of the UK."