MSPs condemn UKIP MEP David Coburn's Abu Hamza comment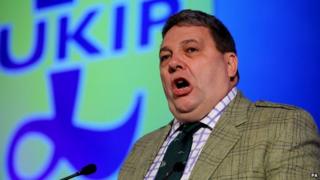 MSPs have unanimously condemned remarks by UKIP MEP David Coburn comparing a Scottish government minister to a convicted terrorist.
David Coburn has apologised for the comments about Humza Yousaf, saying it was a "joke".
But Communities Minister Alex Neil said he should consider resigning over the "shameful" remarks.
MSPs were debating a motion celebrating Scotland's diverse communities.
The government had tabled an amendment to the motion put forward by the independent MSP Jean Urquhart.
It says parliament "unites in condemning the recent comments by David Coburn MEP".
Presenting the amendment, Mr Neil described Mr Coburn's comments as "nothing short of disgraceful".
He said: "His totally unacceptable smear cannot be excused as UKIP banter or as a joke.
"It is racist, it is Islamophobic, it is just plain wrong and has been rightly condemned by all parties in this chamber. And I hope the amendment in my name about David Coburn will therefore be passed unanimously.
"Let me say this Presiding Officer, David Coburn does not represent the views of the Scottish people and I seriously think that as an MEP for Scotland, he should seriously consider his position. There is no place in Scotland or elsewhere for the depiction of Muslim people as terrorists."
'Repugnant'
Scottish Conservative MSP Liz Smith described David Coburn's comments as "repugnant" and said they had "absolutely no place in a democratic society."
Labour MSP Hazala Malik said the comments about his "fellow Glaswegian" were "shameful". He also called for more to be done to tackling racist incidents, saying Police Scotland records around 90 racial incidents each week.
Mr Neil's amendment was prompted by a newspaper interview in which Mr Coburn said: "Humza Yousaf, or as I call him, Abu Hamza".
In a comment to BBC Scotland he said: "I've apologised profusely for it. It was a stupid thing to say. It was an inappropriate joke."
Mr Yousaf has called for European officials to discipline the MEP.
Scotland's minister for external affairs and international development told BBC Scotland the comment was "Islamophobic" and "among the worst racial slurs" he had ever received.
UKIP leader Nigel Farage said Mr Coburn's remarks were a "joke in poor taste" but he would not be taking any action against him.
However, the UKIP MP Douglas Carswell condemned the remarks while speaking on the BBC's HARDtalk programme.
He said: "I don't defend the comments made by the Scottish UKIP MEP at all. They were disgraceful comments to make and I have no truck with those comments."
The president of the European Parliament, Martin Schulz, condemned the remarks, saying they were "not worthy of any elected member".
But the spokesman said the president could not act on remarks made outside parliament.