Legal duty on councils to bridge attainment gap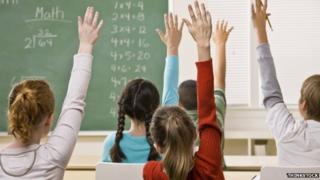 Councils in Scotland will have a legal duty to help children from poorer backgrounds perform better at school, under Scottish government plans.
The Education (Scotland) Bill will require local authorities to introduce measures to reduce the attainment gap and report on their progress.
Education Secretary Angela Constance unveiled the proposals during a visit to a school in Leith.
Local government body Cosla has questioned the need for legislation.
The Scottish government has said reducing the attainment gap between pupils from poor backgrounds and those from wealthier households is a priority.
'Inequality'
Launching the bill at St Mary's RC Primary School, Ms Constance said: "Our bill underlines our expectations of local councils in the process of addressing educational inequality.
"Specifically the bill will place a statutory duty on councils to narrow the attainment gap and introduce a new requirement for councils and ministers to report on progress achieving that."
The draft legislation also includes measures to promote Gaelic education and to give greater help to pupils with additional support needs.
An additional £1m for councils to buy textbooks was also announced.
Under the proposals, each local authority will have a chief education officer.
John Fyffe, president of the Association of Directors of Education in Scotland (ADES), welcomed the move.
He said: "We welcome the Education Bill and the increased focus it places on the need to deliver a better, more equitable education system for Scotland.
"The action being taken by the Scottish government to address the disparity in outcomes faced by pupils from disadvantaged communities is positive, as is their commitment to ensuring that each and every local authority has a chief education officer.
"That officer will play a key role, ensuring that our approach to the delivery of education is built on a clear understanding of what works."
'Plan needed'
Neil Mathers, the head of Save the Children in Scotland, said there was "no greater priority" than closing the attainment gap in Scotland.
He said: "A legal requirement to close the attainment gap shows that Scotland no longer accepts that lottery of birth matters more than a child's talent or effort at school.
"It is unacceptable that children living in low-income households, and in deprived communities, have significantly less chance of doing well at school and it is unacceptable that this has continued for so long."
But Cosla education convenor Douglas Chapman said local authorities had already introduced initiatives to address education inequalities.
He told BBC Scotland: "Let's have a look to see if we're on the right track with these initiatives and if there is legislative intervention required then, by all means, let's have a discussion about it.
"But let's not at the same time allow that legislation to get in the way of progress."
Conservative MSP Liz Smith said it was unclear how the Scottish government's proposals would work in practice.
She said: "Closing the attainment gap is one of the most important issues facing the Scottish Parliament.
"We've set out our ideas - which include more parent choice, more vocational options and increasing aspirations among families and pupils - but the SNP is neglecting to listen.
"Only when a very definitive plan of action is produced will people believe this is a Scottish government prepared to do something about the issue."
Financial implications
The Educational Institute of Scotland (EIS) had campaigned for additional funding to buy textbooks to deliver the Scottish government's Curriculum for Excellence.
EIS general secretary Larry Flanagan said: "The introduction of the Curriculum for Excellence has inevitably brought some financial implications for schools, so it is very welcome that the Scottish government has listened to teachers' concerns in making this additional investment which will allow school resources such as textbooks to be updated."
Last month the first minister announced proposals to draw on schemes with a proven track record, including the London Challenge.
During a visit to London she said the scheme would be backed up by a new Attainment Scotland Fund which will provide £100m of investment over four years.
Scottish Labour has outlined a £125m plan over five years to address education inequalities.