Funeral for former MSP Tom McCabe who died aged 60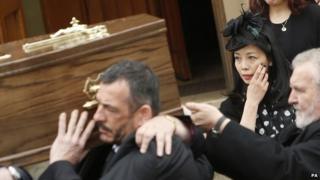 Former prime minister Gordon Brown was among hundreds of mourners who attended a funeral service for former Labour MSP Tom McCabe, who died aged 60.
Scottish Labour leader Jim Murphy and Deputy First Minister John Swinney were among other members of the congregation at St Mary's Church in Hamilton.
Mr McCabe became Scotland's first MSP when he was elected in Hamilton South in 1999, holding the seat until 2011.
He died at his home in Hamilton at the weekend after a period of illness.
The service recalled Mr McCabe's political career, which also saw him serve as finance minister and Labour's chief whip at Holyrood.
'Never forgotten'
There was also a touching tribute from his six-year-old daughter Ava, who read a poem for her father as part of the service.
She said: "I love you, dad, with all my heart and hate that we should be apart.
"Our love is a bond that can't be broken. You may be gone but never forgotten."
Gordon Matheson, leader of Glasgow City Council, also shared some of his memories of Mr McCabe, who lost his battle with cancer on Sunday.
Mr Matheson said Ava was the "absolute apple" of her father's eye, adding that Mr McCabe's wife Shuming said that "every day for months after she was born he would hold Ava in his arms and cry".
He added: "He loved her so much and she brought him so much joy."
Mr Matheson hailed his friend as a "Lanarkshire great", saying: "He made a difference during his life that very few people could ever hope to, and was esteemed by those who knew him.
"Throughout his life he served the people of the town and county where he was born, lived and died.
'Full life'
"He served his country with pride and distinction. He served his party with loyal dedication, thoughtfulness and integrity.
"And while he died too young, we give thanks for a life that was full."
Mr McCabe's character and his politics were based on the "sometimes hard experience" of his childhood in Hamilton, Mr Matheson said.
He told mourners that Mr McCabe's father had lost both his legs in a "horrific" industrial accident at the Ravenscraig steelworks.
As a child, Mr McCabe, who had three sisters, used to steal turnips from the garden of a policeman who lived nearby.
When he left school he went to work at the Hoover factory in Cambuslang, where he became involved in the AEU trade union. After becoming a senior shop steward there he joined the Labour Party.
His career in politics started when he was elected to the former Hamilton District Council in 1990, becoming leader of the local authority just two years later.
In 1995, he became the leader of the new South Lanarkshire Council, which replaced four authorities in a massive shake-up of local government in Scotland.
He was "meticulous, hard-working and reformist", Mr Matheson said, adding: "From very early on it was obvious that he was a rising star.
'Private man'
"His whole approach to politics, like his character, was straightforward and determined, but also thoughtful and reflective. He believed that the people deserved quality public services. Simple as that."
As chief whip in the Scottish Parliament, he said, Mr McCabe was "tough, frank and scary at times", but he was the "ultimate team player and earned loyal support and lasting affection from those who worked for him".
Mr Matheson said: "His later ministerial career reinforced his stature and confirmed his legacy. He backed free personal care under Henry McLeish, was decisively influential in convincing Jack McConnell that a comprehensive smoking ban in public places was the right thing to do.
"And as finance minister, Tom ensured that key services were properly funded while at the same time creating health reserves. He knew even before the banking crash that money was going to get tight."
He described Mr McCabe as a "very private man" who was happiest with his family and close friends.
He also recalled how he kept trim and fit, and took "keen pride" in his appearance.
"He was always well-dressed," Mr Matheson said. "In fact, three weeks before his death he travelled into central Glasgow to get his hair cut and coloured by Taylor Ferguson."
The well-known hairdresser was also among the 400 mourners at the service, which was conducted by Father Henry O'Brien.
As well as his wife and young daughter, Mr McCabe is survived by his two older children, Paula and Mark, his granddaughters, Megan and Georgi, and his three sisters, Kathleen, Maureen and Geraldine.