Labour candidate Anas Sarwar gets 'death threat'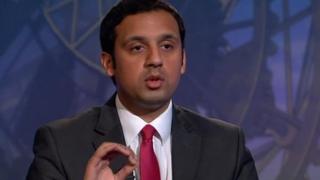 A senior Scottish Labour politician has had a death threat left on his answering machine, the party has said.
The message threatening to shoot the party's former deputy leader Anas Sarwar was left on the machine of his Glasgow office between 8 and 10 April.
Scottish Labour said the matter had been reported to police.
Police Scotland said it had no comment to make at this time. Mr Sarwar is standing to hold his seat for Glasgow Central.
The threat was condemned by Scottish Labour's current deputy leader, Kezia Dugdale, who said it had "no place in our society" but that it would not deter Mr Sarwar.