Election 2015: SNP's Angus Robertson re-elected to House of Commons role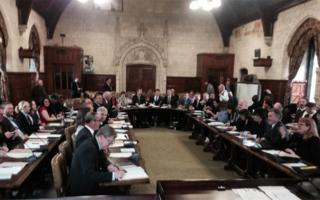 The Scottish National Party has re-selected Angus Robertson as its leader at Westminster.
Last week's General Election saw 56 SNP MPs winning seats in the House of Commons - up 50 on its 2010 intake.
Mr Robertson, who has been the party's group leader at Westminster since 2007, was backed by deputy leader Stewart Hosie and former leader Alex Salmond.
Angus MP Mike Weir is to take on the role of chief whip, in charge of keeping discipline within the party.
The re-selection of Mr Robertson as Westminster leader follows confirmation that the SNP is the Commons' official third party.
The status has allowed the nationalists to take over the Westminster corridor once inhabited by the Liberal Democrats.
It will also result in the party's MPs being given control of two House of Commons select committees.
Following his election in the Grand Committee Room in Westminster Hall, Mr Robertson said: "I'm absolutely delighted to be re-appointed as Group Leader for this new, record-breaking group of SNP MPs. It is a real honour to continue in this job during such an exciting time.
"We have been announced as Westminster's third largest party - meaning we are better placed to hold the UK government to account."
The Moray MP added: "Our MPs are committed to making Scotland's voice heard at every opportunity. Our MPs will continue to oppose the renewal of Trident, the Tory's unfair and punishing austerity agenda and we will press for new powers for Scotland."
Other appointments at the meeting included confirming Stewart Hosie as Deputy Group Leader, Eilidh Whiteford as Group Secretary and Pete Wishart and Kirsten Oswald as members of the Group Executive.