David Cameron and Nicola Sturgeon to meet for talks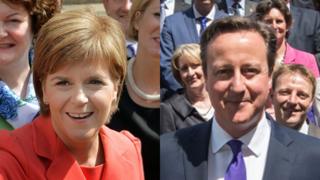 The prime minister is to meet Scotland's first minister on Friday for their first face-to-face talks since last week's general election.
David Cameron and Nicola Sturgeon spoke by phone the day after last Thursday's vote.
The two leaders agreed to hold more detailed discussions at the earliest possible opportunity.
Downing Street said they would meet during the prime minister's visit to Scotland on Friday.
Since the election, Mr Cameron has restated his commitment to "governing with respect and implementing devolution" along the lines of the cross-party Smith Commission agreement.
Ms Sturgeon has said she "made it clear" to Mr Cameron during their brief telephone conversation last week that "it cannot be business as usual" in Scotland.
She later described the Smith Commission template as "a strong starting point" which "does not go far enough".
Mr Cameron's Conservatives won an overall majority in the election, while Ms Sturgeon's SNP won 56 of the 59 seats in Scotland.