Leslie Evans announced as Scotland's top civil servant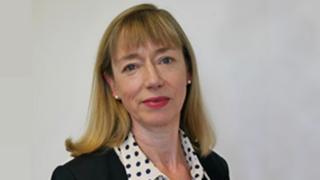 The successor to Scotland's top civil servant, Sir Peter Housden, has been announced.
Leslie Evans will take up the position of permanent secretary to the Scottish government in July.
Ms Evans, who is already a senior civil servant at the Scottish government, is the first woman to take up the role.
Sir Peter announced his intention to leave in January, saying he wanted to make way for a successor ahead of the 2016 Holyrood elections.
Ms Evans, currently the Scottish government's director general of learning and justice, said it was a "privilege" to be appointed to the role.
First Minister Nicola Sturgeon, who made the final decision on who should succeed Sir Peter, said Ms Evans brought "vast experience" to the job.
'Challenges'
Ms Evans has worked for the Scottish government since 2000, holding a number of senior posts including director of culture, external affairs and tourism. Before that she spent 20 years working in local authorities in Scotland and England.
Ms Evans said: "It is a privilege for me to undertake this role, following Sir Peter, who is leaving the organisation in such good heart.
"I'm very much looking forward to working closely with my civil service colleagues, our partners in the public, third and private sectors's and the UK government, to meet the challenges and realise the opportunities that lie ahead for Scotland."
Ms Sturgeon added: "Leslie brings a vast amount of experience from across the public sector to the role.
"I look forward to working with Leslie in her new role to deliver outstanding public services and the very best for the people of Scotland."
Sir Peter said: "Leslie Evans is an outstanding public servant whose leadership, experience and impact on Scotland and the UK is widely recognised.
On announcing his departure, Sir Peter, who served as permanent secretary for five years, said his time in charge had been during a "vibrant and challenging" period.
In 2011, Scotland's opposition parties complained to the head of the UK civil service about Sir Peter, with Liberal Democrat Tavish Scott at the time accusing him of "rapidly becoming the chief cheerleader" for independence.
The then head of the UK Civil Service, Sir Gus O'Donnell, said it was "right and proper" that civil servants should act to support their elected ministers, in this case the devolved Scottish government.
Sir Peter himself maintained he expressed no view on Scottish independence.