Scottish 'mince' makes it into Hansard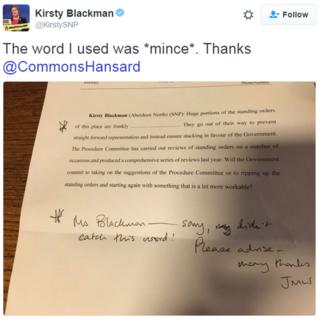 An SNP MP has had to dish out help to the official written record of the House of Commons after they failed to understand her use of the word "mince".
Kirsty Blackman, the MP for Aberdeen North, was contacted by Hansard over a criticism of standing orders.
Ms Blackman was sent a note saying "...sorry, didn't catch this word".
The MP tweeted: "The word I used was *mince*." Mince is Scottish slang used to describe something which is below par or rubbish.
The official Hansard record later appeared with the word mince quoted.