SNP MP Phil Boswell pays back expenses after probe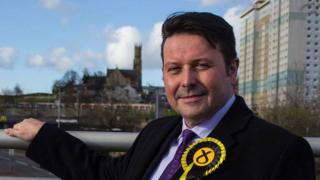 Scottish MP Phil Boswell has paid back £555 he claimed in expenses for the making of a video.
The SNP MP was investigated by the Independent Parliamentary Standards Authority (IPSA) after a complaint from a member of the public.
The issue surrounded a video made by Mr Boswell, which he said was to "keep constituents informed", but which the watchdog said was party-political.
The Coatbridge, Chryston and Bellshill MP has repaid the money.
Mr Boswell said: "The videos in question were created to keep constituents informed.
"When I was informed by IPSA that this cost was outwith the scheme of expenses, I immediately took action to repay the full cost. I apologise for this error."
Earlier this year, another watchdog upheld a complaint against Mr Boswell for failing to register interests.
The Parliamentary Commissioner for Standards accepted the MP, elected in 2015, had made a "genuine mistake" when he failed to register his shareholding in a company.
Mr Boswell was also backed by the SNP over his use of a tax avoidance loophole in a previous job.