Councillor launches SNP deputy leadership bid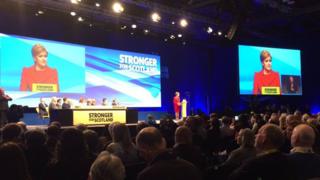 A councillor has become the first candidate to put themselves forward for the position of SNP deputy leader.
Current deputy Stewart Hosie is standing down from the post at the next party conference later in the year.
Christopher McEleny, leader of the SNP group on Inverclyde Council, will need the support of 100 fellow party members to get on the ballot paper.
Mr McEleny said he could be a "champion" for local government at the heart of the party.
Mr Hosie announced he would step down following headlines about his personal life, amid reports that he had an affair with a political journalist.
The MP recently split from his wife Shona Robison, who is an MSP and the Scottish government's health secretary. First Minister and SNP leader Nicola Sturgeon said Mr Hosie had made the right decision to step down.
Nominations for the role of deputy leader are open until August, with an election for the post at the party's autumn conference.
Mr McEleny, who became a councillor in 2012, is one of six SNP representatives on Inverclyde Council. There are elections to all 32 of Scotland's councils in 2017.
The 29-year-old said: "As local councillors, we are on the frontier of delivering the services that communities and people across Scotland rely on.
"I believe I can champion local government at the heart of our party, a position that will benefit both our party and Scotland as a whole."