SNP to chair eight of Holyrood's 15 committees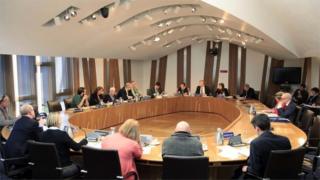 The Scottish Parliament's committee structure for the coming term has been revealed, with the SNP chairing the majority of the 15 groups.
Subject to MSPs approval, the SNP will have eight convenorships, the Conservatives four and Labour three.
But the governing party will not have a majority of seats on any committee, therefore will have to seek consensus.
Presiding Officer Ken Macintosh said he was impressed by "how co-operative and collegiate this process has been".
After returning to power as a minority government, the SNP will lead many of Holyrood's key committees in the coming years - although it does not have a majority on any of them.
It will put forward convenors for groups including finance, education, equal opportunities, local government and social security.
'Fair to all parties'
SNP members will also lead the standards, procedures and public appointments committee, the environment, climate change and land reform committee and the Europe and external relations committee.
The Scottish Conservatives will head up the economy, jobs and fair work committee, along with the justice committee, the rural economy and connectivity committee and the delegated powers and law reform committee.
Labour meanwhile will put forward convenors for the health and sport, public audit and public petitions committees - with Neil Findlay, Jenny Marra and Johann Lamont respectively nominated.
In a letter to MSPs, Mr Macintosh said he was pleased that "all parties were willing to look at the committee structure afresh".
He said: "I have been impressed by how co-operative and collegiate this process has been. Business managers were clear that they wanted to be fair to all parties and that the interests of the parliament should come first."