Call for 'renewed' oil industry support in Holyrood debate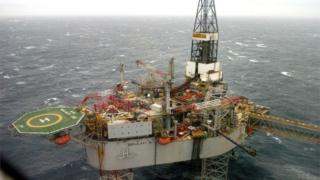 Scottish Labour led a debate at the Scottish Parliament calling for renewed action to support oil and gas industry jobs.
The party used its first debate of the Holyrood term to ask MSPs to "unite around a long term plan".
However, the Labour motion was amended to one worded by the SNP defending their record on the economy.
Jackie Baillie said the government should not "bury their heads in the sand", saying "everything is not OK."
Ms Baillie's motion noted reported job losses of 120,000 in the sector since 2014, "calling on all parties in parliament to work together to support the oil and gas industry and its workforce, and for action to be taken to support the industry over the short, medium and long term".
She said this was part of Labour's "positive plan" to secure the future of the sector, saying there should be an "urgent review" of measures to protect jobs and skills.
The Labour economy spokeswoman said: "Alarm bells are ringing about Scotland's economic future. Warning signs are coming through loud and clear.
"There is a duty on the SNP Government to use the new powers of the Scottish Parliament to promote effective economic growth. We can't wait any longer - there is a need for urgent action right now."
Saying Scotland was "a hair's breadth away from recession" last year, Ms Baillie appealed to the government: "Don't bury your heads in the sand. Everything is not OK."
'External challenges'
Economy Secretary Keith Brown submitted an amendment to Ms Baillie's motion noting that Scotland's economy was still growing, despite "many external challenges".
He noted the amount of foreign investment Scotland brings in, and said the Scottish government was taking measures to support workers and companies affected by falling prices.
Speaking to the amendment in the chamber, Energy Minister Paul Wheelhouse said it was vital to grow the economy in a sustainable way, adding that inclusive growth is "central to everything we do".
Mr Brown's amendment was accepted by MSPs following a vote of 66 to 58, and the amended motion was passed by the same margin.
Meanwhile, Murdo Fraser filed an amendment for the Scottish Conservatives saying parliament should "regret" the government's ongoing moratorium on fracking.
He said the moratorium was "holding back the sector" and quashing opportunities for diversification into onshore gas markets. He said scientific reports had shown that with "robust regulation", shale gas could be safely extracted, and said the government would not be taken seriously unless it "listens to the science".
He slammed Labour for advocating a full ban on fracking, saying their stance on fossil fuels was "hopelessly confused". He said it was implied that the party was opposed to further fossil fuel developments in the North Sea too, saying they had "lost the plot" and was "completely out of touch".
Scottish Green MSP Patrick Harvie has also submitted an amendment calling on the government to "end its emphasis on GDP" as a measure of economic performance.
He went on to call the fall in oil price "a compelling reason to plan the transition away from Scotland's current economic reliance on the fossil fuel economy". He added that "this industry is not a long-term proposition", saying Scotland was "over-exposed to the carbon bubble".
And Lib Dem Tavish Scott put in an amendment looking to add to Ms Baillie's motion, recognising calls for greater funding for decommissioning work to be part of the long-term strategy.
Neither of these latter amendments were taken forward for the debate, but both men had the chance to put their positions forward in the chamber.