SNP's Keith Brown says Scottish government 'not obsessed' with indyref2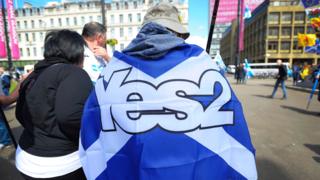 Holyrood's Economy Secretary Keith Brown has said the SNP government was "not obsessed" with holding a second independence referendum.
He made the comment the day after First Minister Nicola Sturgeon presented her legislative plans for 2016-17 which included a Referendum Bill.
Mr Brown told the BBC that it was right to prepare such a bill but there were "other options".
However, Tory MSP Jackson Carlaw said independence was the SNP's "obsession".
During an interview with BBC Radio Scotland's Good Morning Scotland programme, the Scottish Conservatives' deputy leader insisted the nationalist government was looking for an excuse to hold a second vote on independence.
'That is their obsession'
The first was held nearly two years ago and saw voters decide by 55% to 45% to stay a part of the United Kingdom.
Mr Carlaw said: "The SNP has been seeking to find an excuse to have a second referendum.
"Yesterday ministers were yawning broadly behind much of what she [Nicola Sturgeon] had to say until she got to the bit where she talked about independence and all the energy returned to the SNP benches. That is their obsession."
In a later interview on the radio programme, Mr Brown rejected the claim that the Holyrood administration was "obsessed" with an independence vote.
He said: "I think six times yesterday Ruth Davidson spoke about an independence referendum - the first minister mentioned it once to say what we were doing."
'Not us that are obsessed'
Mr Brown added: "Instead of answering questions about Brexit - the problems they [the Conservatives] visited upon the economy - they have got nothing to say about that and tried to hide the fact that they had nothing to say by constantly talking about independence referendums. They have got to start getting real.
"The first minister has been clear that is one option which will be part of a number of options in consideration undertaken for example by the standing council of Europe, but it is not us that are obsessed.
"What you saw yesterday was six times Ruth Davidson mentioning this."
The Scottish government said 15 new bills would come before the parliament.
They include the:
Air Passenger Duty Bill
Child Poverty Bill
Domestic Abuse Bill
and a Social Security Bill
The Referendum Bill was the final one mentioned by Ms Sturgeon in the Scottish Parliament chamber on Tuesday afternoon.
She told MSPs: "To ensure that all options are open to us, this programme for government makes clear that we are to consult on a draft Referendum Bill so that it is ready for immediate introduction if we conclude that independence is the best or only way to protect Scotland's interests."
After the UK voted to leave the EU in a referendum on 23 June, Ms Sturgeon said that a second Scottish independence referendum was "highly likely".
She insisted that it was "democratically unacceptable" that Scotland faced the prospect of being taken out of the EU against its will.