FMQs: siding with the millionaires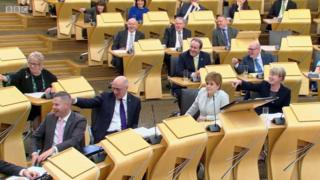 It was, in itself, rather an effective intervention. From Labour's Alex Rowley, in the style he has made his own. Dogged, determined, redolent of Fife but shorn of chutzpah.
Whenever Nicola Sturgeon made a choice on tax, he rumbled, she "sided with the millionaires, not the millions."
The response was not instant. It was slow to build, like a barbecue that refuses to light then turns incendiary (when assisted with several litres of fuel).
Firstly, Labour members applauded - but with signs of constraint as if they could sense what was coming.
Then it happened. SNP members whooped and chortled, joy unconfined, as they pointed their damnatory digits in the direction of Anas Sarwar, he who would lead the Scottish Labour Party.
The reason? Mr Sarwar has a bit put by, his family having created a hugely successful wholesale business.
If Mr Sarwar were seeking a role in the Chamber of Commerce or one of Glasgow's ancient trades, such a backstory would undoubtedly be of benefit. His hand would be grasped, his opinion sought.
However, he is aspiring to lead Scottish Labour. Their erstwhile guru, Peter Mandelson, may have been "intensely relaxed" about folk becoming super-rich (as long as they paid their taxes).
Others, in what still styles itself as the people's party, are decidedly less sanguine.
Mr Sarwar has faced persistent questions, not least on the wireless, about issues such as union recognition and the real living wage at his family company.
His answers were that no union has sought formal recognition while many staff are individual members; that the living wage remains voluntary, not yet mandatory; and that, as a minority shareholder, he has no control over the business.
He added further, on the wireless, that he took no revenue from the firm. Still the questions pursue him, following upon previous inquiries regarding his family's decision to send his children to the same fee-paying school he attended.
Sarcastic Sturgeon
Which brought us to today. The SNP whooping subsided for a moment to allow Ms Sturgeon to reply to Mr Rowley.
But the noise level swiftly returned to max as she seized the opportunity given to her. With overt sarcasm, she chided Mr Rowley for raising the topic of millionaires when he had a known member of the squad on the benches behind him.
Was she suggesting that Mr Rowley had been aware of the likely consequences of his carefully scripted barb? Friends, I think she was.
As for Mr Sarwar, he delivered a gesture in the chamber which I am assured by younger chums means "bring it". Apparently, prepositions such as "on" have become redundant in this brave new world. But no matter.
And later he suggested that Ms Sturgeon plainly feared him most and he looked forward to confronting her directly for real, as Labour leader.
In the interests of balance, I should say that other potential leaders are available. Otherwise known as Richard Leonard.