Anas Sarwar criticised by Nicola Sturgeon over pay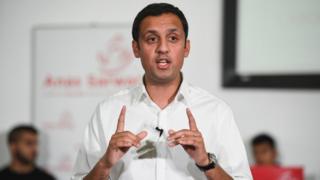 There is a "gulf as wide as the Clyde" between Scottish Labour leadership candidate Anas Sarwar's words and actions, the first minister has said.
Mr Sarwar has faced criticism after it emerged his family's firm does not pay all staff the real living wage.
Nicola Sturgeon said it was proof that Labour should "get its own house in order" before it lectured others on low pay.
Mr Sarwar later said the attack was proof the SNP saw him as a threat.
The Glasgow MSP is standing against Richard Leonard in the Labour leadership contest, which was sparked by Kezia Dugdale's resignation last month.
'Sat on her hands'
Speaking after the exchanges at first minister's questions, he said: "I promise that if I am elected Scottish Labour leader I will work every day to remove Nicola Sturgeon from office so that we have a government that puts Labour values at the heart of Scotland's future.
"This is the first minister who this week shamelessly sat on her hands and abstained in a vote to make the richest pay their fair share.
"Unlike Nicola Sturgeon, I voted to increase taxes on millionaires."
Mr Sarwar holds a share said to be worth £4.8m in his family's United Wholesale (Scotland) Ltd, which recently advertised for jobs that pay £7.50 an hour.
The amount is the same as the legal minimum wage, but less than the voluntary £8.45-an-hour "real living wage" promoted by anti-poverty campaigners including Labour, which has pledged to introduce a £10-an-hour minimum wage if its wins power.
Ms Sturgeon launched her attack on Mr Sarwar after Labour's interim Scottish leader, Alex Rowley, accused her government of siding with "the millionaires rather than the millions" on tax decisions.
As SNP MSPs in the Holyrood chamber pointed at Mr Sarwar, Ms Sturgeon responded: "I thought it was really unfair of Alex Rowley to personalise this debate by bringing Anas Sarwar into it.
"The problem here, as Anas Sarwar so clearly illustrates, is there is a massive gulf - a gulf as wide as the Clyde - between what Labour says and what Labour does.
"We have a Labour leadership candidate lecturing others about doing the right thing on pay and yet his own family firm won't pay the living wage voluntarily.
"So Labour should get its own house in order."
The comments prompted Presiding Officer Ken Macintosh to remind MSPs that they should "try and refrain from personal attacks in this chamber".
Received assurances
Mr Sarwar says he is not a director of United Wholesale, has "no say" in how it operates and does not receive any remuneration from it.
He says the firm does not pay everyone the real living wage because it is voluntary while he wants to make it mandatory.
And he told BBC Scotland on Wednesday that he had received assurances from the company that it "wants to transition to a real living wage for all employees".
Ms Sturgeon spoke out after Mr Rowley pressed the SNP leader on "unacceptable" levels of child poverty, calling on her to "finally accept in order to help the poorest in this country you've got to be prepared to look at taxing the richest in this country".
The SNP leader said that when local authorities were this year given the power to raise council tax in their budgets, it was only Labour authorities that had decided against this.
She added: "Labour really needs to close that gulf between what they say and what they lecture others and what they actually do themselves."