Colleges 'may offer more part-time courses'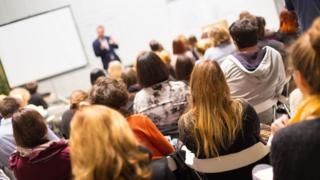 Colleges may provide more part-time courses following new guidance from the Scottish government.
The new government guidance removes the need for colleges to prioritise full-time courses.
The move to concentrate on full-time courses was a key part of a big shake up to Scotland's colleges.
The new guidance makes it clear that colleges should have flexibility to respond to local needs. This could include more part-time places.
Opponents have accused the government of a U-turn, while the education union the EIS welcomed the development.
Further education minister Shirley Anne Somerville spelled out the new guidance to the Scottish Funding Council - the body which uses public money to pay for college places.
Youth unemployment
She said: "Colleges are not required to prioritise full-time provision for 16-24s but rather should be responsive to the current needs of learners and the economy.
"This must include access to opportunities for part-time learners, learners over the age of 24 and those returning to learning."
A Scottish government spokeswoman later said the emphasis on full-time courses had been "hugely successful for young people and the economy".
She added: "Scotland has a lower youth unemployment rate than the UK and one of the lowest in the EU. The level of youth unemployment, excluding full-time education, has almost halved since 2014.
"Meeting our youth unemployment target four years early means the time is right to encourage colleges to build on this success and respond to the needs of learners of all ages and local and national labour markets."
The concentration on full-time courses has been a key part of the government's efforts to tackle youth unemployment.
And there is no suggestion that the government's guarantee of a place in education or training for any teenager who does not have a job will not remain.
The number of young people who are not in education, work or training - so called NEETS - has fallen and there are often back-stories which explain individual situations.
---
What is the background to this?
Colleges across Scotland have gone through a massive shake up in recent years.
They were officially brought back into the public sector and separate local colleges merged into so-called "regional super colleges".
In most of Scotland there is now one single college - operating on a number of sites - with responsibility for local further education. Overall budgets were cut and jobs have gone.
Colleges were told to prioritise full-time courses which lead to recognised qualifications - these courses are mostly taken by school-leavers and people in their early twenties.
The move led to a big fall in the number of part-time students although the number of places, when expressed as a full-time equivalent, has been broadly stable.
However critics were concerned that part-time courses were being dismissed as mere "hobby courses" and the importance of some part-time courses was not being recognised.
---
Labour education spokesman Iain Gray accused the government of a "brazen u-turn in the middle of a ministerial letter".
He added: "What makes it so shameful is that colleges have turned themselves upside down to meet SNP minister's demands that they focus on full time courses leading to employment, and now they are being told off by the minister for it.
"Further education student numbers have plummeted by 150,000, many through the loss of part time courses, with women the biggest losers.
"Now an SNP minister has the cheek to pretend this was nothing to do with them, and it is all somehow the colleges' fault.
"Clearly the criticism of this government's further education policies from Audit Scotland and others has hit home. The big losers of course are the people denied access to the college courses they need by ten years of SNP cuts and incompetence."
'Individual needs'
The general secretary of the EIS, Larry Flanagan, welcomed the apparent change of emphasis, which he said could help improve further education access to a wider section of people across Scotland.
He added: "The EIS has consistently raised concerns regarding the impact of prioritising full-time provision over the types of part-time provision that often appeal to adult returners to education, people with disabilities and those with caring responsibilities - most often women.
"It appears as though the Scottish government is now re-emphasising the importance of a range of provision to ensure that as many people as possible can access a model of further education that suits their individual needs."
Shona Struthers, the chief executive of Colleges Scotland, said concentrating on full-time courses had affected the number of older learners, particularly women.
"We firmly believe that colleges should be open and available to all learners regardless of age or background and it is encouraging that the latest outcome agreement guidance is recognising the important role that colleges play in providing opportunities for older and part-time learners to gain work-ready skills, retrain, upskill and get back into the labour market," she said.
"This not only increases confidence and life chances for people, it also boosts productivity and contributes to inclusive growth in Scotland."
The total number of students enrolled at Scotland's colleges declined dramatically because of the focus on full-time places from 350,000 in 2005 to 238,000 in 2012.
However the number of so-called full-time equivalent places remained broadly stable, reflecting the change of emphasis.