Aged 70, the NHS is creaking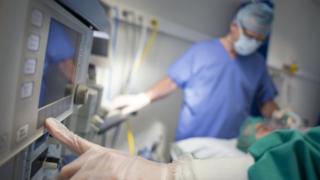 Audit Scotland has a significant constraint. It is empowered to follow the use of public money, to audit whether it is doing what is expected of it.
That is, it takes government policy, and checks the results against the aspirations. What it does not do is question Scottish government policy. And quite right too.
But that is not to say that others cannot do so, or that it's impossible to see the implications of what the Auditor General is saying.
And behind the detailed analysis of Caroline Gardner's report into the flow of funds through health boards, is the big question about direction of travel for the NHS. Is the Scottish government, along with the other three UK administrations, fooling itself if it thinks the NHS can somehow get over its current budgetary challenges and meet expectations into the foreseeable future?
This is true of other parts of the UK as well: more money is pumped in, but it can't be pumped fast enough to keep up with the combined growth of demand for services with rising costs and expectations of what medicine can achieve.
And as is often noted, the more health spending is ring-fenced because it has political support, the more other spending items - from education to social work, prisons to libraries - gets squeezed.
As we found from another set of figures released on Thursday, the reason is mainly down to good news: we're living longer. The number of pensioners is due to rise by quarter in the next 25 years, and the fastest growing group is the oldest: aged 75 and over, their number up by 79%.
This is not an attack on older people, by the way. It's about future older people, which includes lots of current younger people. Those over-75s in 2041 will include me, if I'm spared.
Old age health problems
Yet we're not living longer healthy lives. On average, that has stuck in the past eight years around the age of 61. It means more people needing treatment for older age health problems, and requiring social care.
Even if you take the years from 2013 to 2030, the number of Scots requiring home care or a place in a residential care home is projected to rise by a third. And we're not managing with the numbers we've got.
The Scottish government wants to merge health and care budgets to handle that transition better. That much sounds sensible. But today's report offers little evidence that doing so is actually saving any money. It offers only one example, in Ayrshire.
The problem may be that buying that transition requires more dual running of services. Or it may be that success is hard to measure. But it doesn't breed confidence.
There's another pressure, also resulting from good news. Medics are developing more and better treatments. But at a cost.
The hospital medicines bill has risen 34% in only five years. That's in real terms. Prescribed by family doctors, the drugs bill is up 8%.
We don't know how much faster it will grow, but think of future drugs personalised to your genetic profile. Smarter targeting almost certainly means higher cost.
A lot of this debate is about how the NHS responds to demand, to pressures for more and better treatment and care.
As it turns 70, the next stage for the NHS debate is likely to feature the other side of the spending coin - how to manage demand, and what role the public should have in taking more responsibility for their own health, both in maintaining it and (this is getting controversial) perhaps also in users, or patients, paying some fees towards it, in addition to their taxes.
So it may not be coincidence that the obesity strategy has been published on the same day as the Audit Scotland report.