Liberal Democrat MP Jo Swinson's election expenses investigated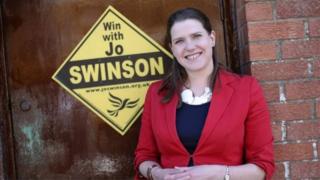 The deputy leader of the Liberal Democrats is being investigated by police over her general election spending.
Jo Swinson, the MP for Dunbartonshire East, is thought to have been reported by one of her constituents last week.
The Liberal Democrats confirmed that Police Scotland received a complaint and had started to investigate.
The party said it had "full confidence that there is no substance" to the allegations.
And it said the complaint was a "classic SNP tactic when they have lost an election", accusing the party of "wasting police time".
Ms Swinson lost her seat to the SNP's John Nicolson in 2015, but won it back after defeating Mr Nicolson in June's snap general election.
The SNP has denied it was behind the complaint about Ms Swinson.
Undelivered leaflets
Her official declaration of election expenses came in £210 below the legal limits, but only after stating that £2,700 of leaflets and other material bought by the party went undelivered - therefore not counting towards the total.
A further £4,040 of costs were registered as "national" spending, which means they were used for promoting the party generally rather than Ms Swinson's local campaign.
At the time, the SNP said voters would "find it hard to believe that so much cash could be spent on leaflets that just vanished", adding that: "It was an election, not an illusion show."
The Electoral Commission strictly limits the amount a candidate can spend in elections to ensure there is a level playing field.
Anyone convicted of deliberately submitting false spending returns can be jailed for up to a year.
A spokesman for the Liberal Democrats said: "All expenditure in this election was apportioned correctly and clearly identified in our election return which is a matter of public record.
"As in Edinburgh Western, we have full confidence that there is no substance to this complaint (against Ms Swinson).
"We make no apology for fighting as hard as we could to stop the SNP in their tracks. The people of East Dunbartonshire made a clear choice when they rejected the SNP in June."
Police Scotland last year investigated claims regarding the expenses of Lib Dem MSP Alex Cole-Hamilton from the 2016 Holyrood election, with the Crown Office later confirming that the Edinburgh Western MSP would not be prosecuted.
Questions have also been raised over the election expenses of Lib Dem MP Christine Jardine, who took Edinburgh West from the SNP in June.
Ms Jardine denies any wrongdoing, and says she has been the victim of a "smear" by her political opponents.