Kezia Dugdale says Celebrity jungle was 'political gamble'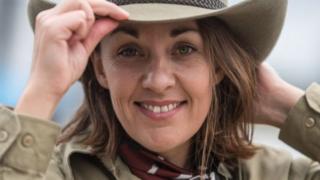 Kezia Dugdale said she knew appearing on I'm A Celebrity would be a "political gamble".
The former Scottish Labour leader, known as Kez on the ITV show, was the second person to be evicted from the Australian jungle.
Ms Dugdale said she expected criticism but would be coming home "with my head held high".
She faced a backlash after it emerged she joined the reality show without permission from the Labour Party.
The MSP lasted 11 days in the camp.
The Edinburgh and Lothians MSP had asked for three weeks off from Holyrood business but did not reveal her plans to go on the show.
New leader Richard Leonard initially had said he was "not persuaded" that his predecessor should be punished, despite his own "personal disappointment" and strong criticism from others in the party.
'Love my job'
Scottish Labour later announced that Ms Dugdale she would not be suspended from the party.
However, she will be interviewed on her return to parliament and will "have the opportunity to present her account of events."
Ms Dugdale was expected to be paid tens of thousands of pounds, part of which she said she would be donating to charity, along with her MSP's salary for the time she is away.
In an interview with ITV's Lorraine, she said: "I always knew it was going to be a big gamble for me politically.
"I know I'm going back to a good deal of criticism and I will take that face on. I've got to have a lot of conversations with people but I'm going back with my head held high.
"I came out here to do what I wanted to do. I love my job, it's a great privilege to be a Labour politician and I fully intend on continuing to do it for a very long time."
The 36-year-old said she appeared on the programme to show young viewers that not all politicians were like fellow camper Stanley Johnson, who is Boris Johnson's father.
In her exit interview she told presenters Ant McPartlin and Declan Donnelly she wanted to use the appearance to talk about the things she cared about.
She added: "And to take on the myth that every politician looks like Stanley - old, white, male, pale and stale. I wanted to show that there is a variety of people out there."