MSP salaries to rise above £62,000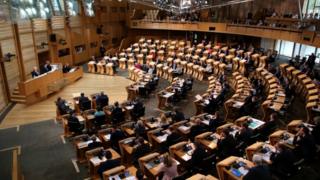 MSPs are in line for a pay rise that will take their basic salary to £62,149 next year, it has been confirmed.
The 0.6% increase - below the current inflation rate of 3% - was confirmed in the Scottish Parliamentary Corporate Body (SPCB) budget bid for 2018/19.
Since 2015, salaries for MSPs have been directly linked to public-sector pay rises in Scotland rather than MPs' pay.
The announcement came as Holyrood's finance committee was told that the parliament was "busier than ever".
Conservative MSP Jackson Carlaw, a member of the SPCB, confirmed the pay rise as he told the committee that the Scottish Parliament's total budget requirement would increase from £97.6m in the current year to £102.3m for 2018/19.
Mr Carlaw said the parliament was facing pressures including the impact of Brexit and ongoing reform.
And he said there had been a 45% increase in overall business in the first year of the current parliament compared to the first year of the last parliament, with more and longer committee meetings impacting on resources.
Mr Carlaw said: "It's the corporate body's view that our parliament is busier than ever, it's facing significant change and this, combined with the impact of its new powers, means that it's no longer sustainable to continue to fund these recurring costs from our contingency."
How much do the first minister and her cabinet get paid?
Nicola Sturgeon's salary entitlement for this year is £151,721, which covers her duties as an MSP and as first minister.
But since 1 April 2009, all Scottish government ministers, including Ms Sturgeon, have chosen not to accept their full entitlement - a voluntary pay freeze which means that their take-home salary remains at 2008/09 levels.
As a result, the first minister's pay is still £135,605, with cabinet secretaries earning £96,999.
The additional money provided by the pay freeze - which will continue until at least 2021 - is made available for public spending.
Prime Minister Theresa May currently earns £150,402 a year, with backbench MPs taking home £74,962.
Again, Mrs May's take-home pay is slightly lower than the £152,532 she would be entitled to were it not for a voluntary pay-freeze that will be in place until 2020