Political relativity at FMQs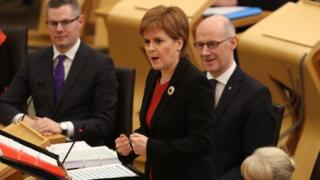 MSPs indulged themselves in an exercise in relativity today. Not courtesy of Albert Einstein: there was energy and mass on display but little in the way of light, squared or otherwise.
No, this was social and political relativity. Comparing and contrasting the application of ideas and actions across these islands and between parties.
The core topic was health care. Ruth Davidson for the Tories said that, relatively speaking, provision had worsened and folk were suffering.
She said the number of hospital beds had declined while there had been concomitant sluggishness in the operation of social care, leaving older people in a particular quandary.
Nicola Sturgeon contested her opponent's characterisation of the NHS - but offered a few relative comparators of her own.
Demand had risen hugely over the winter months. For example, the incidence of flu had now quadrupled by comparison with the previous year. That had led to inevitable pressures.
But she spoke of more money, more staff, more planning for winter. And, overall, she insisted that the health service in Scotland was in a better state than elsewhere in these islands. Better than England (Tory) and Wales (Labour).
It was, therefore, a single transferable argument, which encompassed her opponents. There was a word for Willie Rennie of the Liberal Democrats too.
She accused Mr Rennie of "hypocrisy" in that his Lib Dems had been the co-instigators of austerity via the previous UK coalition with the Conservatives.
Naturally, her opponents declined to lie back and take their medicine. For Labour, Richard Leonard pursued the tactic, pioneered by Jeremy Corbyn, of referring to an individual case.
This is invidious for ministers. Relatively speaking, it is possible to dismiss or counter generic complaints. It is much trickier to rebut an example.
Particularly when, as with the case cited by Mr Leonard, the person involved is an 80-year-old man, Tom Wilson, who, apparently, waited three hours for an ambulance after a fall, then spent 13 hours on a hospital trolley.
What, demanded the Labour leader, would she say to Mr Wilson? There was only one thing the FM could say. Which was "sorry". She duly did so.
And Mr Rennie? He said that the health service was struggling. That the fault lay with the health secretary and her predecessors, including Sturgeon, N.
And the outcome of these exchanges? There was no absolute winner. But, then, it was a day for relativity.