Carillion helplines set up in Scotland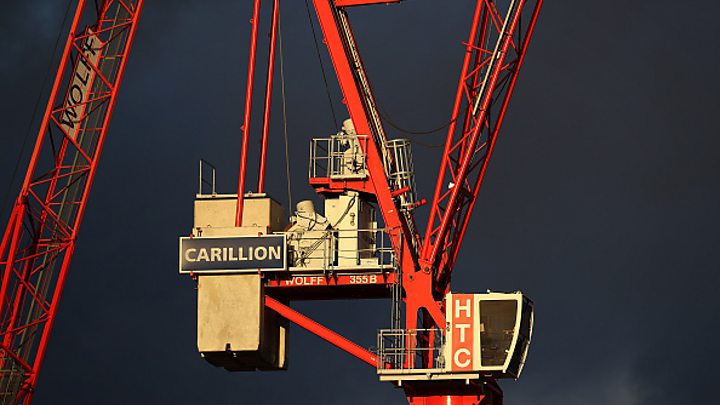 The Scottish government has set up helplines for anyone who may be affected by the failure of construction firm Carillion.
The company went into liquidation on Monday, after running up losses on contracts and struggling with heavy debts.
Carillion employs about 20,000 people across the UK, and was involved in several major projects in Scotland.
The helplines will offer assistance to employees, apprentices and other firms.
'Worrying time'
Scotland's economy secretary, Keith Brown, said: "We recognise this is a very worrying time for employees and companies who will be concerned for their jobs and livelihoods.
"We have set up these support lines to ensure people can get the advice they need and so we can understand the extent of this situation as we know this will affect the wider supply chain."
Scottish companies affected by the Carillion insolvency can call Scottish Enterprise on 0300 013 3385 or register their details here
The redundancy helpline operated by Skills Development Scotland is 0800 917 8000, with help also available here.
Carillion formed one third of the Aberdeen Roads Ltd (ARL) consortium, alongside Balfour Beatty and Galliford Try, which is delivering the £745m Aberdeen Western Peripheral Route (AWPR).
Mr Brown again emphasised that there is "nothing in the nature of the Carillion announcement that necessitates a delay" in the project.
But he said the government would "keep our eye on further developments as they take place".
Mr Brown told the Scottish Parliament: "We understand that Balfour Beatty and Galliford Try will now take the necessary steps to jointly deliver the remainder of this project.
"We will look to see if there are any additional costs - we don't expect there to be any but of course we are having dialogue with the companies involved."
Mr Brown said there were about 70 direct employees of Carillion working on the contract as well as about 190 employed on other terms, including some agency staff.
He added: "I think it's likely that the two remaining contractors will require the work to be done as previously done by the employees of Carillion.
"We can't give a cast-iron guarantee on the workers but I think there's a good chance that many of those will be re-employed and for those that are not we've offered assistance."
Earlier on Tuesday, the UK government ordered a fast-track investigation into directors at Carillion.
Conduct of directors
The business secretary has asked for an investigation by the Official Receiver to be broadened and fast-tracked.
The conduct of directors in charge at the time of the company's failure and previous directors will be examined.
Carillion's business is now in the hands of the official receiver, which is reviewing all of Carillion's contracts.
The company employed 43,000 people worldwide, 20,000 in the UK, and had 450 contracts with the UK government.
There are also big worries for an estimated 30,000 smaller firms which have been working on Carillion projects in the private sector.
Many are owed money and face a wait to find out if they will get any of it back.