New SPA chief backs justice secretary in chief constable row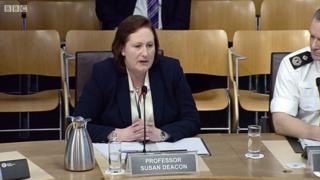 New Scottish Police Authority chairwoman Susan Deacon has backed the justice secretary in the row over Chief Constable Phil Gormley's future.
The police chief remains on "special leave" while a series of allegations of misconduct against him are probed.
Michael Matheson had been accused of acting unlawfully by intervening when the SPA decided to reinstate him.
However Prof Deacon told MSPs she found the decision-making process of her predecessors "wanting in many ways".
She said she would have asked questions had she been in Mr Matheson's shoes, and added that the justice secretary would have been "failing in his duty" if he had not raised concerns.
The chief constable went on special leave in September 2017 as a series of allegations of misconduct against him emerged.
There are now six complaints under investigation, including four by the Police Investigations and Review Commissioner.
However in November the SPA board unanimously agreed in a private meeting that he should be allowed to return to work.
Mr Gormley was on his way back to Scotland to resume his duties, with a press release having already been drafted, when Mr Matheson was informed of the decision and raised his concerns with then-SPA chair Andrew Flanagan.
The decision was subsequently reversed.
The justice secretary said he had asked questions about "clear deficiencies" in the decision-making process which Mr Flanagan had been unable to address, including the lack of a "robust" plan to protect staff involved in complaints and the investigation into the chief constable.
Mr Gormley's lawyer has claimed this intervention was "unlawful" and opposition MSPs have also criticised the justice secretary over the unminuted meeting.
'I wasn't told'
DCC Iain Livingstone, currently standing in as the head of the force in Mr Gormley's absence, told Holyrood's justice committee that Mr Flanagan had texted him to say that deliberations were ongoing - the day after the meeting where the decision was made.
He said his "advice or views were never sought" on the matter, adding: "I wasn't told there had been a decision, a reconsideration and then another decision."
A draft press release drawn up by the SPA with input from Mr Gormley's lawyer had claimed that "necessary steps" had been taken to "support the welfare of all involved parties".
However this was contradicted by Mr Livingstone, who said he "categorically" had no knowledge of such steps - and said he would have been "extremely surprised and extremely disappointed" had talks about the matter taken place without him.
Prof Deacon also told MSPs that she had found the processes around the SPA meeting "wanting in many, many ways".
She said it had prompted her to tell board members "literally on my first day" that changes would have to be made.
She added: "Had I been in the cabinet secretary's shoes - and I have walked in these types of shoes in the past - then I would have asked questions about the process as to how that decision had been made.
"And personally, I think the cabinet secretary would have been failing in his duty he had not asked those questions."
'Different atmosphere'
Prof Deacon, who took over from Mr Flanagan as chairman of the SPA in December, told MSPs that she shared concerns about the previous governance of the SPA and it would take "many months" to get it working properly.
She said she was asking questions about "why some of the fundamentals have not been better developed", saying the group "has to be fit for purpose if it is to play its part".
Mr Livingstone praised the work already done, saying he could "already feel a different atmosphere" with Ms Deacon in place, saying the culture of communication and openness was "very, very different from how things have been in recent months and years".
Mr Flanagan and former SPA chief executive John Foley, both of whom left their positions following heavy criticism from MSPs, will give further evidence to the public audit committee on Thursday.