Frank evidence from police bosses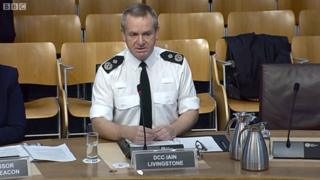 This morning's session of the justice committee at Holyrood was a fairly cautious affair. The tone was set from the outset, quite justifiably, by the convener, Margaret Mitchell.
She reminded members of the committee - and their witnesses - that the topic concerned existing investigations into the chief constable of Police Scotland and other senior serving officers.
As such, nothing should be said which would impede those inquiries.
Not that the witnesses needed reminding. Both Iain Livingstone and Susan Deacon have core roles to play in the future of Police Scotland.
And so both were cautious. However, alongside that, they contrived to be frank. There was no attempt at soothing platitudes, no "move along please, nothing to see here."
Iain Livingstone is the deputy chief constable at Police Scotland. More to the point, he is acting chief while Phil Gormley continues on leave, pending the investigation of complaints.
Mr Livingstone took pains to insist that day-to-day, operational policing was in good order. The public need not fret. Observing, we got his point.
However, his tone also told us a story about his own exasperation surrounding this controversy. The DCC noted that, on the 7th of November last, the SPA, then chaired by Andrew Flanagan, had decided that Mr Gormley could return to work, while investigations continued.
They had communicated this decision by letter to Mr Gormley on the following day, the 8th. However, the acting chief had not been informed. You could tell - you could just tell - that he was less than pleased.
Indeed, he told the convener that he would have been "annoyed" had it emerged that anyone else within Police Scotland had been brought up to speed.
This was not simply a question of protocol - although it was that. It was also that the chief (or acting chief) had precise responsibilities under statute.
That would have included, for example, coping with those officers who had lodged complaints in the first place, in the event that the chief constable returned to work before the completion of inquiries.
Incidentally, DCC Livingstone made these points in response to gently persistent inquiries from John Finnie of the Greens, a former police officer.
Their brief and effective double act evaporated somewhat on a subsequent point. DCC Livingstone stressed that there was an effective command structure in place, while noting that there were now just 12 chief officers in Police Scotland, by contrast with 30 in the former eight force structure.
Mr Finnie, perhaps reflecting the views of his erstwhile colleagues in the police, said he felt that the shedding of top officers was a core argument in favour of a single force.
To Professor Susan Deacon, formerly a Scottish Labour cabinet minister. She has, therefore, considerable political experience to add to her evident skills in the public and private sectors
So her verdict upon the actions of the Justice Secretary Michael Matheson may be thought to carry some heft.
You will recall that he has faced considerable criticism for intervening in the effort to get the chief constable back to work at an early stage.
Prof Deacon firmly backed the justice secretary. In his shoes, she said, she would have done the same - while reflecting, en passant, that she had indeed worn ministerial footwear in the past.
Further, she said Mr Matheson would have been failing in his duty had he not queried the decision by the SPA. A challenge which led, in effect, to the decision being reversed.
Understandably, the committee wanted to ask Prof Deacon about past events at the SPA. Equally understandably, the new chair was keener to talk about the future.
But, as with DCC Livingstone, she contrived to make her views amply clear. She described in some detail the challenges she faced at the SPA - a need for openness, a need for decision-making, a need to understand the decision between scrutiny and operational policing.
Did that merit a widespread and fundamental review? She thought not, perhaps taking her cue from the concern that such reviews can take minutes and waste years.
Rather, Prof Deacon suggested, it was time to act upon the evidence already extant from past inquiries. She promised to do exactly that.