Having your fish and eating it too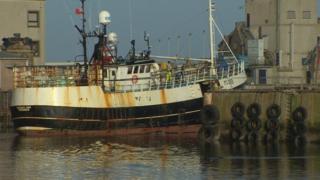 Fishing communities all around the coast of the UK contain some of the country's most committed Leavers.
Many fishing folk have been opposed to the UK's membership of the EU for decades.
They feel they have always had a raw deal from the Common Fisheries Policy (CFP) - the agreement which sets the quotas for how much, and what type, of fish each EU nation is allowed to catch.
UK fishermen - from Newlyn in Cornwall to Peterhead in Aberdeenshire - complain bitterly that they are allowed to catch less than 40% of the fish in UK coastal waters.
They compare that to Iceland - which is not in the EU or subject to the CFP.
Icelandic fishing boats land about 95% of the fish in their water.
Norwegian fishermen keep more than 80% of the fish in their waters.
The UK fishing industry believe there will be no better example of "Taking Back Control" than regaining control of Britain's coastal waters.
Davie Milne, a skipper in Fraserburgh, has just invested millions in a brand new boat, The Faithlie, hoping better times lie ahead for UK fishermen.
He told me, in no uncertain terms: "I think we need total control of our UK costal waters."
Mr Milne does not want to exclude all EU boats from UK waters - but wants to reduce what they can catch.
He said: "We know they have got to get access, we are under no illusions about that.
"They will still have to have access to UK waters but we'd like to be in charge of the access that we have and the limits that are put on that.
"So they don't come in and just please themselves and catch whatever they want and go wherever they like."
But when I asked him if he was confident that the UK government would stick up for fishermen when it comes to negotiating with the EU, he said: "Not confident, no".
"Fishing is regarded by the government as an expendable issue," Mr Milne said.
"The government are saying all the right things but will they do the right thing?"
Political considerations
The fishing industry contributes just 1% of UK GDP.
So it may not be the UK government's top priority when it comes to negotiations with the EU.
But there are other political considerations.
At least five of the Scottish seats the Conservatives won from the SNP at the 2017 general election can be attributed to a pro-Brexit fishing vote.
The Conservative MP for Banff and Buchan, David Duguid, told me he campaigned for the seat by saying he would stand up for the fishing industry.
He said he "would not, could not, vote for any Brexit deal that does not see an advance for the fishing industry".
A substantial amount of the fish caught in UK waters is actually sold in EU countries.
So as well as taking back control of UK waters the fishing industry also needs a trade deal that allows it to sell their fish into the Single Market without large tariffs or complicated bureaucracy that could delay the transport of their product into the EU
Sinclair Banks, the general manager of Lunar, a large fish processing plant in Peterhead told me: "If there are tariffs imposed then that creates challenges.
"Fresh fish is a perishable item so if it gets to a border and there are non-tariff implications such as documents that hold up the product at the border that's a big issue."
So is it possible that the UK can negotiate a deal that allows our fishermen to keep the majority of the fish in British waters and retain access to EU markets to sell the fish?
Alain Cadec MEP, chair of the European Parliament Committee on Fisheries, says "Non".
He told the BBC: "That's not possible, there must be an equitable agreement, I think that the British have a great interest in an equitable agreement, if they want to be able to sell their products in the single market of the EU.
"And equally, we can access the British waters.
"That's how we need to reach an agreement. It can't be unilateral, that's not possible."
The UK fishing industry have high expectations of what they hope they will gain from Brexit.
If it sounds like having your fish and eating it too - they say that sounds like the ideal meal.