On manoeuvres at FMQs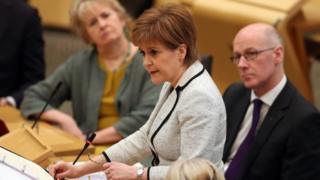 Ruth Davidson has a military background, having served in the Territorial Army. She was on manoeuvre at Holyrood today, although it should be said that her camouflage was less than all-encompassing.
Ms Davidson began by inviting the first minister to condemn the poison attack in Salisbury and to endorse the line advanced by the prime minister to the effect that Russia was evidently culpable.
Since Nicola Sturgeon had already offered exactly those views in London yesterday - and indeed in preceding days - this could be taken as given. However, it was reasonable to get it on the parliamentary record.
Ms Davidson then sought information about security and other preparations in Scotland. Ms Sturgeon duly obliged with a degree of detail, designed to reassure.
Then the Conservative leader narrowed the attack upon her quarry. Given the degree of consensus thus far, did the first minister also agree that Russia Today (RT) was a tool of Kremlin propaganda?
Now, of course, this sortie by the Tory leader contained a scarcely hidden factor. One of the hosts on RT is Alex Salmond, Ms Sturgeon's predecessor as SNP leader and first minister.
And so Ms Sturgeon felt somewhat constrained. She would only say that she had made plain her views about RT in the past - without restating what those views were (she wasn't a fan).
But, she added, if Ms Davidson wanted to reconnoitre territory beyond the core issue of the poison attack, then she should be prepared for other issues to arise. Namely, the impact of Russian money in the UK - and, specifically, donations from Russian-born individuals to political parties.
Just as with the comments from the Conservative leader, this was a sklenting attack, sidling up to its target. When the FM said "parties", she meant the Tories.
She meant, indeed, one donation in particular. Ruth Davidson offered a lunch with herself for auction at a party fund-raising event in London. The successful bidder, offering £20,000, was a UK citizen, the Russian-born wife of a former Moscow minister.
We decided to seek further and better particulars. We asked Ms Sturgeon whether Mr Salmond should absent himself from Russia Today. She noted, again, that she had made her views clear on the topic of RT.
We asked Ms Davidson about the donation. She said she had not attended the auction at which the bid to sup with her was lodged - and that she had heard nothing since. She noted further that all donations to UK parties were regulated by the Electoral Commission.
As for Mr Salmond, his views were offered on RT. His show today featured criticism of Russia, among other elements. Then, in a soliloquy at the close, he questioned the attribution of blame for the Salisbury attack to Russia, without further specific evidence.
He insisted he had full editorial control of his programme's content and that neither he nor his guests were directed by Moscow. He urged retention of the channel.
In bidding farewell, he said he hoped to be back next week. One wonders whether Nicola Sturgeon shares that hope.