Russian anger over Sturgeon spy attack response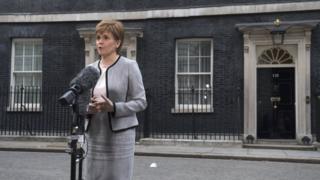 Russia has criticised the Scottish government over its response to the Salisbury nerve gas attack.
The consulate in Edinburgh said the Scottish authorities had "unequivocally" supported a "hostile standoff" with Russia.
Russia denies being behind an assassination attempt on ex-Russian spy Sergei Skripal and his daughter.
First Minister Nicola Sturgeon has backed the UK government's decision to expel Russian diplomats.
Sergei and Yulia Skripal remain critically ill in hospital after being exposed to a "Novichok" nerve agent, a type developed by the former Soviet Union.
In a statement released on Twitter, the Russian consulate said it was "deeply saddened" by the incident and wished a complete recovery to all its victims, including Sgt Nick Bailey, the British policeman who became ill after going to the aid of the Skripals.
But it went on to condemn the UK government for its actions against Russia in the wake of the attack.
It said: "It is absolutely unacceptable and unworthy of the British government to seek to seriously aggravate relations further in pursuit of its unseemly political ends, having announced a whole series of hostile measures, including the expulsion of 23 Russian diplomats from the country.
"By investigating this incident in a unilateral, non-transparent way, the British government is again seeking to launch a groundless anti-Russian campaign.
"It is with much regret we have to note that the Scottish authorities have unequivocally provided their full support to this hostile standoff with Russia.
"We are receiving warm messages of support and consideration from many residents of Scotland and want to thank them all profoundly."
'Unlawful killing'
Nicola Sturgeon discussed the Salisbury attack with Theresa May when she travelled to London last week for a meeting of the Joint Ministerial Committee, a body which brings together the UK and devolved governments.
Afterwards she said those attending had been "united in our condemnation of Russia's actions".
She added: "I expressed my support for the initial steps that the prime minster has outlined in the House of Commons this afternoon.
"Obviously as legislation is brought forward we will scrutinise that carefully.
"But it is very clear that Russia cannot be permitted to unlawfully kill or attempt to kill people on the streets of the UK with impunity."