Russian diplomat calls for Boris Johnson to quit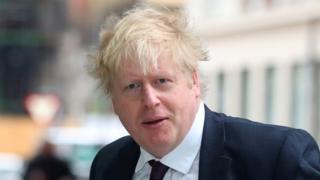 A Russian diplomat has called for Boris Johnson to resign after he compared Russia's staging of the football World Cup to Hitler hosting the Olympics.
Andrey Pritsepov, the consul general in Scotland, said the foreign secretary's comment "crossed all diplomatic lines".
And he insisted it was "ridiculous" to suggest Vladimir Putin would use the tournament for political ends.
Prime Minister Theresa May will warn later that Russia poses a threat to Western democracy.
And she will urge EU leaders to stand together in the face of Russian aggression.
Mrs May has accused Russia of being behind the nerve agent attack on the former spy Sergei Skripal and his daughter Yulia in Salisbury - something which Moscow denies.
Her foreign secretary, Mr Johnson, told a Commons committee on Wednesday that it was "certainly right" to compare "what is going to happen in Moscow in the World Cup" this summer with the 1936 Olympics in Nazi Germany, which were used as a propaganda tool by Hitler.
Mr Johnson added: "I think it is an emetic prospect frankly to think of Putin glorying in this sporting event."
Downing Street later confirmed Mr Johnson was speaking on behalf of the government.
The Kremlin has described Mr Johnson's comments as "disgusting", "unacceptable" and "not worthy of a foreign minister of any country".
When asked about Mr Johnson's remarks by the BBC's Good Morning Scotland programme, Mr Pritsepov said that "maybe it is time for him to go".
He also claimed it was "outrageous" and "very shortsighted" for Mrs May to have blamed Russia for the nerve agent attack "before the investigations have started".
Scotland's first minister, Nicola Sturgeon, has joined Mrs May in condemning Russia over the chemical attack, saying it was "very clear that Russia cannot be permitted to unlawfully kill or attempt to kill people on the streets of the UK with impunity."
The Russian Consulate in Edinburgh said on Wednesday that it had noted "with regret" that the Scottish government had "unequivocally provided their full support to this hostile standoff with Russia".
But it said it had been "receiving warm messages of support and consideration from many residents of Scotland and want to thank them all profoundly."
Mr Pritsepov said he had since had a "very constructive meeting" with the Scottish government, where they had agreed "that we will talk to each other, that we would act positively, and that we will try to de-escalate the stand-off".
And he suggested that residents of Scotland who applied for visas to travel to Russia would not be affected by the expulsion of 23 Russian diplomats as much as those in England and Wales.
When asked whether it would now be harder for UK resident to get through the visa process, he said: "Not for residents of Scotland because we are providing all consular support.
"As to England and Wales, my ambassador has warned that the waiting time could double."