Canadian firm takes over BiFab yards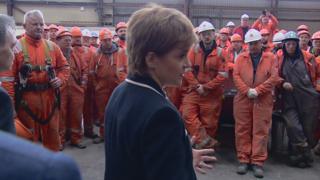 The troubled BiFab engineering firm has been taken over by a Canadian company in a move that could save hundreds of jobs in Fife and on Lewis.
BiFab had warned workers at its yards in Methil, Burntisland and Arnish that they faced possible redundancy.
But JV Driver, through its subsidiary DF Barnes, has now acquired BiFab as part of an agreement brokered by the Scottish government.
The Scottish government will remain a minority shareholder in BiFab.
BiFab builds large-scale equipment for the offshore oil and gas industry, as well as platforms for offshore wind turbines and tidal generators.
The government offered BiFab a £15m loan in November to help it avoid going into administration, but the firm remained under threat as its order book dried up with the completion of the Beatrice Wind farm contract in the Cromarty Firth.
Unions said in February that they had been told that 260 jobs were to go by the end of May, with the yards facing full closure a month later.
But the Scottish government said the deal with JV Driver and DF Barnes would allow the yards to seek new fabrication and construction work in the marine, renewables and energy sectors.
JV Driver is one of Canada's largest independently owned industrial construction companies.
Its subsidiary, DF Barnes has been a consistent employer in the oil and gas, fabrication and marine industries for over 80 years.
The deal was announced by First Minister Nicola Sturgeon as she visited the BiFab yard in Methil, where she met representatives of the Canadian firms as well as union officials.
Analysis by Douglas Fraser, BBC Scotland business/economy editor
In the absence of a major blade manufacturer, BiFab was the best hope of translating Scotland's renewable energy potential into industrial employment. It still is.
It has fabricated the steel jackets on which turbines sit in the Irish Sea, and it has had significant contracts to build for the oil and gas sector west of Shetland. It's currently working through a contract for similar platforms in the Beatrice offshore windfarm, in the outer Moray Firth.
After that, the order book is empty. And as big orders of this kind tend to come in peaks and troughs, there's the risk of the Fife yards joining Arnish on Lewis in being mothballed.
The next prospects in sight are structures for wind arrays off the coast of Moray, Angus and Fife, but they remain some months off.
The Scottish government may be taking a stake in the business of up to 38%. The figure depends how much of the debt funding on offer from St Andrews House is drawn down and subsequently swapped for equity. The total amount is being kept commercially confidential, but the government is on the hook for a significant risk.
That stake does not mean ministers can magic up contract wins - not when there is tough competition from around the North Sea. And because of procurement rules, nor can ministers offer much by way of subsidy.
So the new Canadian owners have a task in hand to adjust to European procurement, while investing in the Scottish yards sufficiently to drive down the price at which they're bidding.
Meanwhile, one of their first tasks is to handle discussions with workers, with 100 of them facing redundancy.
If they can get through this year, and probably at some cost, they could emerge with contract wins and the possibility, they hope, of building BiFab into a Scottish exporter. With a wider interest across the Atlantic, they may also be able to sequence orders so that the peaks and troughs are levelled out a bit.
They bring experience of marine engineering in Newfoundland and Labrador. Steel fabrication is a more recent strand of D.F. Barnes, and the firm is new to working outside North America.
So while the takeover is a great step forward for BiFab, it's got a rocky road ahead.
Ms Sturgeon said the government had been in talks with DF Barnes for several months, and described the agreement that had been reached as a "significant step forward in our efforts to restore BiFab to its place at the centre of Scotland's marine energy industry".
The first minister also stressed that there was "a lot of hard work ahead", and that there was "no magic bullet for these yards".
But she said the commitment of DF Barnes gave BiFab the best chance of winning future contracts and securing new work.
DF Barnes chief executive Jason Fudge said the firm was excited to now have a major presence in Scotland.
He added: "Scotland has been an admired world leader in the offshore oil and gas and renewable energy sectors and we are delighted to join with the employees of BiFab and the people of Scotland to ensure the continued growth of BiFab for the benefit of all. This is a great day for us."
The agreement was welcomed by the GMB and Unite unions, who said they hoped it was the start of a "very bright future for our members and their families".
They added: "Let's be clear that this would not have been possible without the determination and solidarity of the workers and their communities and of course, the continued efforts of the Scottish government and their staff in securing this investment.
"We look forward to meeting with the new owners as soon as possible, to learn of their plans and to help secure the necessary contracts that can help deliver prosperity for Fife, Lewis and Scotland."