Sturgeon defends changes to terminal illness support plans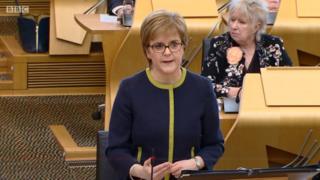 Nicola Sturgeon has defended changes to plans to speed up access to assistance for the terminally ill.
People with terminal conditions are currently "fast-tracked" by the welfare system to receive financial support.
The forthcoming Social Security (Scotland) Bill included plans to extend the definition of a terminal illness from six months to two years.
However, ministers now want to change this, saying they want doctors to judge when claimants are eligible.
The reversal has been criticised by some doctors and health charities who argue it could leave people with fatal conditions waiting longer and facing more assessments.
Ms Sturgeon said it was difficult to accurately diagnose such illnesses over a longer time period, and that ministers wanted to rely on clinical judgement instead of "arbitrary" time limits.
Scotland is currently setting up its own social security system, with the administration of 11 benefits to be devolved over the next three years.
As part of the legislation establishing the new system, MSPs had agreed to give patients with less than two years to live rapid access to benefits - an extension on the six month system currently used by the Department for Work and Pensions.
However, ministers have tabled a new amendment for the final debate on the bill, scheduled for Wednesday 25 April, setting this back to six months - and adding in that conditions could be "identified and defined through consultation with registered medical practitioners".
A number of doctors and leading figures in groups including the Marie Curie hospice, the Centre for Clinical Brain Sciences, Motor Neurone Disease Research and the International Association of Nurses in Palliative Care spoke out about the planned change in a joint letter to the Times.
They said they were "deeply concerned" by the proposal to stick with the DWP's six-month limit, which they said leaves patients having to "wait much longer for their benefits and having to go through face-to-face assessments".
Kezia Dugdale pressed Ms Sturgeon on the matter at Holyrood, saying Health Secretary Shona Robison had "promised a fast-tracked benefits system".
The Labour MSP said: "She said she would end the injustice of terminally ill people waiting months for their benefits - and I believed her.
"But the Scottish government has now tabled an amendment to keep the failing system just as it is. The reason for devolving social security is not so that the SNP can just copy what the Tories do.
"I urge Nicola Sturgeon to intervene to ensure that people with less than two years to live get the benefits they so desperately need."
'Arbitrary limits'
The first minister replied that ministers wanted to "get away from time limits and focus on clinical judgement".
She said: "On the time limits, the change from two years to six months relates to the difficulties that according to some clinicians there are of accurately diagnosing life expectancy over a period as long as two years.
"But that's not the most fundamental point on this, which I think is alluded to in the open letter. If you have a time limit which is the only basis for determining eligibility, then whether that time limit is six months or two years or whatever, you always have the risk of excluding people who should be included, because time limits by their nature are arbitrary.
"That's why it's the second part of the Scottish government's amendment which is important. It effectively means that there will be no hard or rigidly applied timeframe.
"So even for someone who did not fulfil the six months timeframe requirement, eligibility will still be able to be certified by a medical practitioner. So clinicians will still be able to use their judgement on a case by case basis."
The letter from the medical groups in the Times did reference clinical judgement - but said if a time limit is to be mentioned at all, it should be two years rather than six months.
They wrote: "We believe that a terminal illness definition based on clinical judgement and the need of the patient would be ideal to support the administration of social security benefits in Scotland.
"If, however, terminal illness must be defined in terms of life expectancy then two years would cover many more terminally ill people than the present system."