Cable to urge SNP to back campaign for new Brexit vote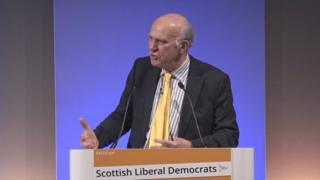 Liberal Democrat leader Vince Cable has urged the SNP to back his campaign for a new referendum on Brexit.
Mr Cable's party wants the public to be given a vote on the final exit deal negotiated between the UK and the EU.
First Minister Nicola Sturgeon has previously said such a vote could become "very hard to resist", but has stopped short of fully endorsing it.
Mr Cable told conference delegates in Aviemore that time is running out for the campaign to stop Brexit.
He said SNP votes could prove crucial to making a second EU referendum actually happen.
Scottish party leader Willie Rennie, who addressed the conference on Friday, has previously held talks with Holyrood Brexit minister Mike Russell in a bid to win the SNP over.
Ms Sturgeon has hinted she may back a second vote, calling Brexit process "a complete and utter car crash".
She told the New Statesman magazine in October 2017: "The very fact that we have no idea what the final outcome might look like suggests there is a case for a second referendum that I think there wasn't in 2014. It may become very hard to resist."
'Exit from Brexit'
Mr Cable told Scottish Lib Dem members that the campaign for a so-called "people's vote" on EU membership was building in strength.
But he said a "key uncertainty is where the SNP sit in all of this".
Mr Cable added: "They have got to declare their position, and they have got to make a choice.
"Are they concerned with narrow, tactical party advantage - or are they concerned with the wider national interest?"
Mr Rennie used his speech on Friday to urge voters disillusions with other parties and Brexit to "try the Liberal Democrats".
He said the party was the best "progressive alternative" for people who want to move on from the "division" of Brexit and independence.
Delegates have also been debating policy resolutions, with unanimous backing for an independent review of Scotland's single police force and a halt to the merger of the British Transport Police into Police Scotland north of the border.
Party members also called for sweeping changes to abortion law, calling on the government to remove all existing criminal sanctions on having or providing a safe abortion.
The debate was led by 15-year-old activist Jessica Insall, who argued that abortion should be taken out of the justice system altogether and instead carefully regulated by the medical profession.
Although a handful of delegates spoke out against elements of the policy motion, which also includes a call for the government to fund free abortions for all service users regardless of their nationality or country of residency, it was overwhelmingly passed in the final votes.
Saturday's conference session included a call for the UK government to put pressure on Royal Bank of Scotland to halt branch closures and a resolution for changes to let people stand for election from the age of 16.